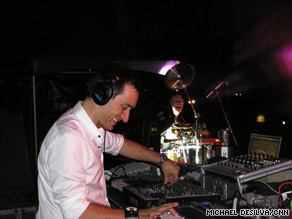 DJ Magazine has named him the world's No. 1 DJ. He has sold more than 3 million albums worldwide.
Paul Van Dyk, a Grammy Award-nominated artist from Berlin, Germany, entertained fans once again when he returned to Central Park in New York City for his sixth appearance on Saturday.
On a night that was supposed to consist of nothing but rain, Van Dyk played a beautiful show, on what ended up being a clear night in front of a capacity crowd.
The one thing that was different about the show in Central Park was that Summerstage holds 5,000 people, a more intimate setting than Van Dyk is used to; he sells out larger stadiums.
His history dates back almost two decades. In the early 1990s, Van Dyk DJed at various venues across Berlin. He released his first studio album in 1994. Since 1994, he has released a total of five studio albums, and started to make a name for himself by touring internationally. His music has seen its way into films, TV shows and commercials.
He is currently on tour promoting his new album, "Volume: The Best of Paul Van Dyk."
People often associate Van Dyk with trance music, but that is only part of what his music sounds like. When you see Van Dyk live, you will hear techno, house, break beats and trance. Sometimes he works with other artists and incorporates vocals into his songs. The music he creates and plays makes people want to get up and dance, as the fans at Central Park did.
Van Dyk is not only a DJ, but also a producer. For the past few years, he has entered a strictly digital world, which means no turntables. He uses a pair of Macbook Pro computers with Logic Studio and Ableton Live software. He creates new tracks as he performs live. This technology allows him to essentially create remixes of his own tracks and others live.
Van Dyk also incorporates two MIDI keyboards that he plays during his own remixing of tracks. At his Saturday show, he had two drummers with him to accompany him during his set; most DJs and producers tour solo.
Van Dyk closed out his four-hour performance Saturday with his new song, "Home," featuring Johnny McDaid. The song has a very melodic, upbeat feel to it and the vocals add to its charisma. It all served as a stunning finish to an electrifying show.
For those who have not seen Van Dyk perform, regardless of what kind of music you are into, I am confident that once you see him live, you will become a fan of his music. He combines DJing and producing into one skill. On stage, he creates new music in a live setting, and he likes to tour with drummers and other vocalists that contribute to his music. This combination of traits makes him both fun and intriguing to watch, as he was in Central Park.