It's a little embarrassing to admit, but I am almost 40 and this year was the first time I was able to actually attend Comic-Con.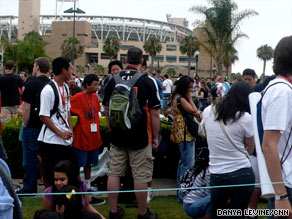 It's something my brother and I used to fantasize about, but coming from a lower middle class family, the idea of spending money on a convention for " geeks" didn't rank high on my parents' TO DO list.
Geeks, that's right, I said it, and I am glad to admit it. I owe all of my talent and career successes to my inner geek.
It's what keeps me young, open minded, and still convinced that anything is possible. It is the reason I able to make a living in the world of television.
You see, my younger brother and I grew up in era of Super Hero super stardom. "Wonder Woman," "The Bionic Man," and even "Aqua Man" were prime time television viewing.
We saw "Star Wars" the day it opened, and then three more times that same week! We lived for our favorite TV shows and cartoons, "The Super Friends," "Scooby Doo," "The Jetsons," a virtual world of super strength, good fighting evil, solving mysteries, and space age technology filled our brains and fueled our imaginations.
And after my first Comic-Con, it's clear to me that the people who make the trek to the event in San Diego are some of the greatest people I have ever met.
Now I know what you're thinking: what is she crazy?
But before you judge, or harrumph, let me explain. You see, the thing they never warn you about at Comic-Con are the lines. The never ending, hot, sweaty, lines. The line to go to the bathroom, the line to go to the ATM, the line for autographs, the lines for each session, the line at Starbucks, and then the mother of all lines – THE line for Hall H.
Hallowed Hall H, it's where people like Tim Burton and Johnny Depp show up.
Where Robert Downey Jr. comes and gives his fans high fives, and where all the super secret trailers and clips are shown. The place where, in my opinion, the magic of Comic-Con shows itself. And it begins in the line.
8 a.m.: Alone, I walk across the street and take my place on the grassy knoll. Coffee in hand, I pull out my boxed breakfast from the hotel and eat. In front of me a group of four sits and plays cards, with the tiniest set of playing cards I have ever seen. They look up at me and say, " You might want to sit and get comfortable, and it may be a while." I smile – "When do they actually open the doors and let us in? Or will we even get in? There seems to be a lot of people here."
I look out at the multiple rows of folks spread out, people sit on camping chairs, eating talking, texting, laughing.
"Oh yeah, we will get in" a young girl says. "We are much closer today than I was in yesterday's line, and I got in then, pretty good seats too."
She and her friends probably realize I am new at this and begin to share tidbits of info with me about bringing plenty of food, and water, a good book, and so forth. Soon most of the people around start striking up a conversation, really making me feel at home. It was easy to forget that I was a stranger, by myself, in a strange city, standing in the blazing sun, on a line that I couldn't even see the beginning of.
8:45 a.m.: My brother calls and asks where I am in the line. I tell him I have his breakfast box and that I will hold up my red CNN cap so he can find me and walk up. He says he feels funny cutting the line, but all my new-found friends assure me that it is perfectly fine. Everyone does it. "We have two more coming, they are in line at the Starbucks now, once they get coffee, and they will walk it over."
Sure enough, two more show up with the cardboard Starbucks tray in hand. I'm thinking if this were anywhere else, fights would be breaking out, bad language, and tempers flaring, but nope not here. It's all smiles and good times.
9:30 a.m.: I am intermittently waving the red CNN cap in the air but my brother is still not visible. A young man turns to me and says, "Where did you get all the cool CNN stuff? Are they here?" I smiled, " I work there, I am here on assignment, doing some research."
"I like your T-shirt… wow you work for CNN?" I was wearing a CNN headline shirt. I thanked him and gave him a coupon to redeem for a free shirt. Soon people start peering over, anything FREE at Comic-Con draws attention. I smiled and was happy to give out free shirts and some Robin Meade bookmarks to my new-found friends. They were so grateful they started helping to look for my brother – waving their arms, asking his name, calling out to him.
10 a.m.: My brother finally finds us. There is a round of cheering and some introductions. In thirty seconds he made 20 new friends. We are all so sweaty at this point, it's ridiculous. Still despite the heat, smiles all around, jokes and conversation ensue.
10:30 a.m.: We are so close to the door we can feel the air conditioning. The young man in front of me turns and says, "Whatever you do, don't run! They kick you out if you run". He seems genuinely concerned about us; it was like he was the experienced general, leading his troops on to the battlefield.
11 a.m.: We secure two seats in the middle of the gigantic theater. The folks we are sitting next to are diehard "Lost" fans. We start talking and soon they are also giving us tips on how to handle Hall H.
"Once the screening is over get up and walk towards the front. As people leave, you can take their seats. You should be able to make it to the first or second row, since there are only two of you". My brother and I are amazed, if we knew a secret like this would we share it with two strangers who were new to the event? WOW, these people are REALLY nice.
12:15 p.m.: Sure enough after "Lost," the theatre clears a little and we walk to the front. I see an open seat, and a young man says it is available. I ask if there is another one, he offers his to my brother. He is here from Rio, a 17-hour flight. He is uploading to his blog all the latest from the "Lost" session. We chat, and off he goes, surrendering his second row chair to a stranger, my brother.
1:15 p.m.: We sit through several movie trailers, Jason Bateman in "Extract," Jesse Eisenberg in "Zombieland," James Purefoy in "Solomon Kane." Every star praising the Con fans, thanking them, sharing secrets with them, premiering clips, and laughing with them. Woody Harrelson then shows "2012," a new disaster film starring him and John Cusack – and there on the screen in giant RED letters is CNN. I was so proud and excited I found myself cheering and clapping like a giddy fan.
Afterwards, the young man sitting next to us starts asking about CNN. Of course I gave him a T-shirt and a bookmark. He is so comfortable with us at this point he leaves his bags and asks if we can watch them while he makes a run for some food. Sure, we say. Happy to save your chair and watch your stuff, knowing that he would do the same for us later when we both needed to get some food too. It's funny, a few days ago I would never have felt comfortable leaving my stuff with a stranger, but here at the Con, no one is a stranger.
3:30 p.m.: The excitement for "Iron Man 2" has the room vibrating. By now, my jaded brother and I are like the Grinch at the end of the story. Our hearts swelled, swept up in the excitement of being in a room filled with 6,000 cheering and screaming people. How can this feel so intimate and familiar when there are thousands of us sitting here? We don't even know each other's names.
4:00 p.m.: Robert Downey Jr.'s appearance on stage sends the place into utter chaos. The camera flashes are blinding. The noise overwhelming. The first thing Mr. Downey does is thank everyone in the audience. Thanks, and more thanks from the entire cast and crew continued. It was sincere, real, and genuine. Roll the clip. Low and Behold! A giant RED CNN appears in the corner of the screen as Tony Stark testifies at a Senate committee hearing. Again I am overwhelmed at the thought of working for such an iconic company. CNN, in the most anticipated film of 2010! It was like I was a proud parent at a dance recital.
5:15 p.m.: Kevin Smith walks on stage and manages to turn a giant theater into an intimate chat room. He jokes, he tells stories, he answers questions. I felt like I was sitting on my couch at home conversing with an old high school buddy.
6:30 p.m.: My visit to Hall H comes to a close, as we all begin to file out. We are talking about the exciting things we shared today in the magic of Hall H. I couldn't help but feel that we were forever bonded by the experience.
7 p.m.: On the elevator in the hotel, a woman asks us what we saw today. Another new friend is made.
iReport.com: Check out photos and video of the convention from start to finish