Full disclosure here: My name is Jenny, and I'm an "American Idol' fan. With that out of the way…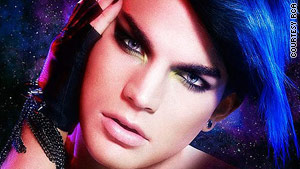 Have you seen it? Adam Lambert's album cover?
Well, you should.
When I first saw it, I thought it was a picture from my favorite movie when I was 5 – "Xanadu."
But no, it's the cover art for "Idol" runner-up Adam Lambert's debut album.  His blue hair, rainbow eyeliner, overly photoshopped face and no shirt (but is he wearing roller skates?!) picture definitely grabs your attention.
The photos released last week from Lambert's Details Magazine shoot also grab your attention. If you haven't seen those photos, just click here.  Pretty crazy, huh? Clearly this is a guy who likes to push boundaries – all of them.
Adam, though, seems to find the blogosphere buzz over the cover a little strange.  He tweeted out today his exasperation with people who didn't get his "omage" – his spelling, not mine – to the campiness of the past. Hey … maybe my "Xanadu" reference wasn't too far off.
If you'd like your own personal copy of "Xana" - oops, sorry, Adam Lambert's "For Your Entertainment" – the album will be released on November 23.