When I first heard about HBO's "Hung", I wasn't necessarily looking for a new Sunday night show.  The marketing and promos didn't get me, but the fact that it was squeezed between "True Blood" and "Entourage" made me give it a shot one night. I quickly went to OnDemand and caught myself up. In a nutshell, the show's about an average guy who loses his house in a fire and turns to gigolo-ing to support his kids.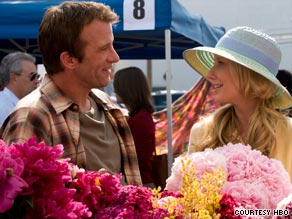 I have to say, the season started up a bit slow, but now I'm addicted to Thomas Jane's character, Ray, and his odd children. Ann Heche's character - Ray's ex-wife - is unbelievably obnoxious, but then again, you kind of need that one person to hate on every show, right?
What I don't understand is Ray's new love interest, Jemma. She's a bit 'unbalanced' to say the least, but because she's attractive she seems to win him over.  Now mind you, this comes after she pays him to be her fake boyfriend, and drags him to a session with her psychiatrist to act out a melodramatic, yet realistic, fight about something that never happened.
Ray might decide that he wants to date Jemma as "Ray" and not as his prostitute alter-ego, "Randall", yet he still seems to view this whole male prostitute thing in a very nonchalant manner. Can normal, basketball coaching, history teaching fathers really have sex for money with random women and not seem to be bothered by it at all or is "Hung" as out there as the fictional concept of vampires and shape-shifters in "True Blood" ?
What do you think? Where is this show going, especially if Ray gets himself a girlfriend? "Hung" fans or haters... please weigh in.