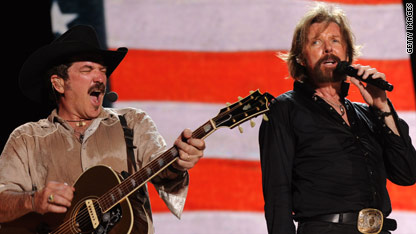 testing captions
Nashville rolled out the welcome mat with a big twang, as Brooks and Dunn turned up their amps for a rockin' rendition of their latest hit, "Honky Tonk Stomp."
The superstar country duo - who call it quits after a farewell tour in 2010 - were deep in rehearsals at the Sommet Center for Wednesday night's "43rd Annual CMA Awards."
Among those boogieing down from the audience - Jennifer Nettles and Kristian Bush from Sugarland, the pair who finally ended B & D's 14-year winning streak as CMA "Duo of the Year." It'll be a showdown between Sugarland and Brooks and Dunn once again, with Kix Brooks and Ronnie Dunn the sentimental favorites among some of the voters.
"If they come back for the reunion tour next year, there will be some you-know-what to pay," teased Nettles. Bush added, "If they come back as Dunn and Brooks - it's over! We're taking the gloves off!," he laughed.
As Jason Aldean stepped into the spotlight to rehearse his recent number one single, "Big Green Tractor," Darius Rucker admired his performance from the back of the room. "Man, listen to his voice!," he marveled. "He sounds as good live as he does on the record!"
Rucker is up for two awards - "Best New Artist" and "Male Vocalist of the Year."
We spoke backstage after last year's ceremony, just as the Hootie and the Blowfish frontman was reinventing himself as a solo country artist. Barack Obama had just been elected President of the United States, and Rucker was reflecting on how an African-American could become of the Leader of the Free World, as well as a country singer. "Just shows how far we've come," he said. "We're prime examples of how you can be whatever you want to be in this country."
Conversation turned toward the hotly-contested category of "Entertainer of the Year" - where Kenny Chesney, Brad Paisley, George Strait and Keith Urban will square off against 19-year-old country-pop sensation Taylor Swift. "It's up for grabs, but I think it could be Taylor's year," predicted Rucker. "She's just so big right now. I think she's transcending country music, and she'll probably take it." Aldean concurred when he got off the stage. "If you looks at numbers - nobody's had a bigger year than her. I don't know how you can discredit that," he said.
In a press release yesterday, the Country Music Association announced that Swift will be the opening performer on Wednesday's telecast. With any luck, she'll also be closing the night with a win for "Entertainer of the Year."