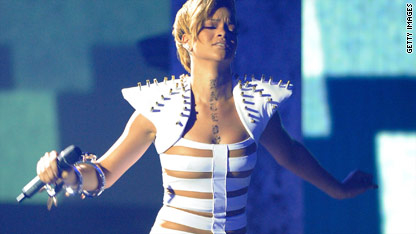 testing captions
Nobody died and dubbed me the arbiter of all things fashionable, but I can spot a "don't" pretty easily, and last night at the American Music Awards in Los Angeles, there were plenty to go around. In fact, there were so many, like J.Lo, you could have tripped on them. Let's take a "trip" down memory lane.
Janet, "Miss Jackson" if you must, looked like a Crate and Barrel couch that had too much bedazzling.
Speaking of bedazzled, Shakira's shorty black number made Janet's look positively dowdy with all the sparkle and glitz. It was sort of a latex, LED tube dress that fit her like a glove. The hips don't lie.
Rihanna is usually lauded for her ensembles, and while I don't always love the '80s outfits she dons, I can appreciate her ability to pull them off. So what happened last night? Rihanna was covered from neck to ankles in what looked like a white velour "onesie." You know, sort of like little kids pajamas. It was offset by horizontal cutouts that looked like tan stripes, which one person described as a glorified Cinnabon and another termed "Ace bandages." She was wearing a short white shrug that looked like football shoulder pads with spikes jutting forth.
Lady Gaga... you expect a dramatic look from her, it's part of the schtick. But her weirdly proportioned nude leotards, oddly wrapped with the accessory of the night, "Ace bandages," offset by a contraption that looked like a ribcage with Christmas tree lights, and very "Alienesque" headgear were beyond the pale. I kept looking at those straps trying to figure out why they were there and what they were hiding.
FULL POST