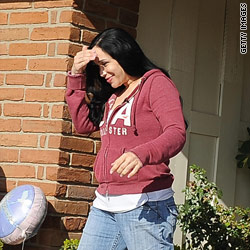 When "Octomom" Nadya Suleman appeared on "The View" Wednesday, she explained how she provides for her children, her future plans and the fact that she might not be "all there."
But the "Octomom" was unfazed when Whoopi Goldberg told her many people probably wonder what goes on in her head.
"Maybe you're not quite all there," Goldberg said.
Suleman simply responded with, "I've asked myself that for years too" before, once again, laughing at a decibel more suited for the pied piper.
"I digress very easily because I have so much energy," Suleman said as the women of "The View" fought for her attention.
When asked if she was done having children, the mother of 14 said she would definitely be open to having another child if the time is right.