I'm a Southern California native, and no matter how hot it gets here each summer and fall, two words are guaranteed to send a chill up my spine: "fire season."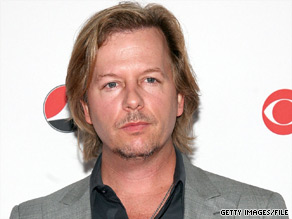 This year, as almost every year, dozens of blazes have sprung up, destroying homes and putting hundreds of thousands of lives at risk - including the lives of our firefighters, who work to exhaustion for months on end to save people, pets and property.
One of the many people who has recognized the heroism of these first-responders is David Spade.  Now, my family has taken water bottles and homemade cookies to fire stations to thank firefighters in the past, but Spade showed some major appreciation, with a $100,000 donation to the Los Angeles and Ventura County fire departments.
"We're incredibly grateful and incredibly humble," Bill Nash of the Ventura County Fire Department told me when I called him to confirm the funnyman's largesse.  "It was a surprise to us and an incredibly nice thing to do."
Nash says the money will go to the department's benefit fund, which helps firefighters and their families in times of need.  "It's nice to know that the department has a way to take care of its own - donations of this size are rare."