In the words of Seth Rogen, "it had to be done."
After Kim Kardashian and Kanye West were unveiled as the subjects of Vogue magazine's April cover story, Rogen couldn't resist Photoshopping a version for the world's other most talked about couple: he and James Franco.
For the confused, no, Rogen and Franco aren't actually in a relationship.
But after they parodied Kanye West's music video for "Bound 2," which featured horses, sunsets, and a topless Kim Kardashian, it only makes sense that they do the same with the over-the-top Vogue cover:
The only couple who did it better than Rogen and Franco are Miss Piggy and Kermit on the cover of "Vague" magazine: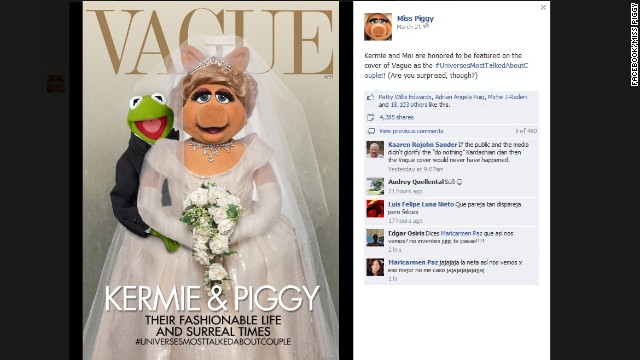 In fact, the two Muppets upped the ante.
"Kermie and Moi are honored to be featured on the cover of Vague as the #UniversesMostTalkedAboutCouple!!" Miss Piggy wrote in a Facebook post. "(Are you surprised, though?)"