The Kardashians set a high bar for awkwardness with their 2013 Christmas card, but Kelly Clarkson and Mena Suvari are not to be outdone.
Both stars have shared their own hilariously bad holiday greetings, with the difference being that at least these two appear to have made them cringe-worthy on purpose. (The verdict is still out on the Kardashians.)
For Clarkson's, the expectant singer rounded up her new husband, Brandon Blackstock, and her two new step-kids, to stage a Santa Takeover.
"Merry Christmas from the Blackstocks!" Clarkson tweeted on December 10, along with the snapshot: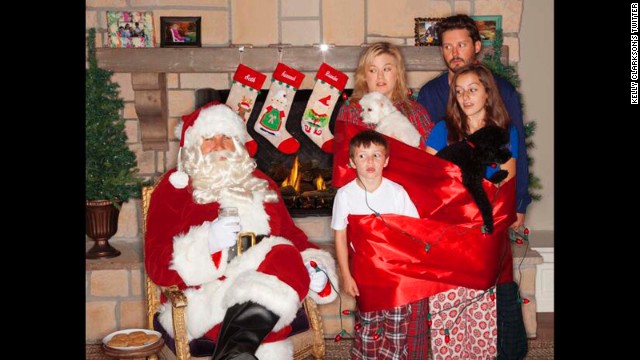 Mena Suvari, on the other hand, went the Miley Cyrus route - which means she involved a random feline, not twerking.
"Happy Holidays!" the actress told her Instagram followers, a seasonal message shared with her boyfriend, Sal Sanchez.
To be fair, it doesn't look like Suvari or Clarkson figured out how to get their Christmas cards to hide secret messages though. That hat trick is owned totally by the Kardashians. Observe: