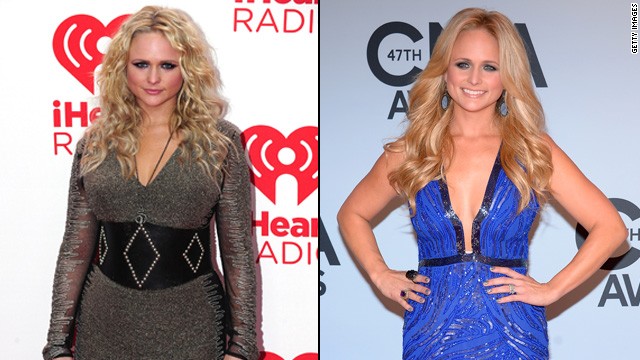 November 25th, 2013
05:00 PM ET
Today's talk you might've missed:
We never thought we'd say this, but Miranda Lambert has taken a page from Kim Kardashian's playbook. Like the new mom and reality star, Lambert has written a statement denying tabloid reports that she's used surgery to get so slim. Lambert was noticeably thinner at the CMAs earlier this month, but the singer says she dropped pounds "the good old-fashioned way ... watching what I eat and working out with my trainer." [MirandaLambert.com]
Justin Timberlake was both a performer and one of the night's big winners at Sunday's American Music Awards, but his wife Jessica Biel was nowhere to be found. "I'm watching from home tonight. Calm down, Internet," the actress informed pot-stirrers on Twitter. It looks like JT rushed right home to his bride after the festivities, too: he tweeted during the West coast airing of the AMAs that he was already back at his abode, taking out the trash. [Twitter]
Miley Cyrus received a $24,000 customized ATV for her 21st birthday on Saturday - and then celebrated the occasion the next night with strippers, Kelly Osbourne and someone in a Lorax costume. [People/Gossip Cop]
Kim Zolciak is officially at the head of the newly expanded "Biermann bunch." The "Real Housewives" star and her husband, football player Kroy Biermann, have welcomed twins to their family, a boy and a girl named Kane Ren and Kaia Rose. [Kim Zolciak's Instagram]
Britney isn't the only Spears with new music. The singer's younger sister, Jamie Lynn, has released a new country tune:
Oh, and also? Justin Bieber's stuck on a "Roller Coaster," y'all:
Remember all the behind-the-scenes drama that was happening with Natalie Portman's Western, "Jane Got a Gun?" It seems the movie's plowed full steam ahead after Michael Fassbender, Jude Law and Bradley Cooper all quit the project. The Weinstein Company has partnered with Relativity to release "Jane Got a Gun" on August 29, 2014. [THR]
Soak up all you can of King Joffrey while he's on HBO's "Game of Thrones." The actor who plays the despicable royal, Jack Gleeson, says he's planning to leave Hollywood behind one this role is done. [Independent]
---

Our daily cheat-sheet for breaking celebrity news, Hollywood buzz and your pop-culture obsessions.