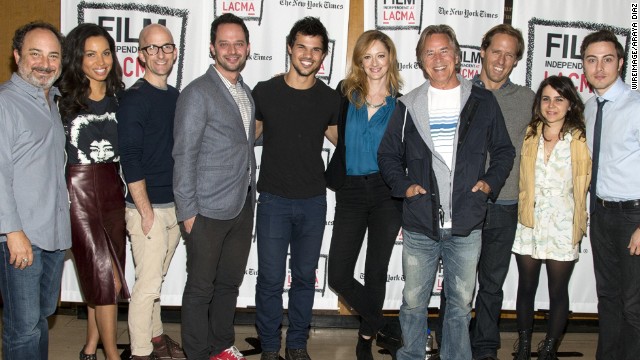 October 11th, 2013
06:00 PM ET
Today's talk you might've missed:
On Thursday night, Taylor Lautner transformed into an anatomically blessed porn star - well, in voice, at least. The "Twilight" actor performed at Film Independent at LACMA's filthy and funny live read of "Boogie Nights" directed by Jason Reitman, along with fellow stars like Don Johnson, Judy Greer, Kevin Pollak, Nick Kroll, Mae Whitman, Jim Rash and Jurnee Smollett.
"Once Upon A Time," Ginnifer Goodwin found love on the set. The ABC drama star is engaged to her "Once Upon A Time" co-star, Josh Dallas. Talk about a fairy tale romance. [People]
Get ready to see a ton of side-by-side photos of Jamie Foxx and Martin Luther King, Jr. The Oscar winning actor is in talks to portray the iconic civil rights leader in a biopic that will potentially be directed by Oliver Stone. [The Wrap]
File this one under "interesting": Bob Odenkirk, who's slated to star in the "Breaking Bad" spinoff as his sleazy lawyer character Saul Goodman, has also just been cast in FX's "Fargo" miniseries. [New York Magazine's Vulture]
Now that Selena Gomez is single, the 21-year-old is owning up about a few of her famous crushes. It turns out she's really into Drake - but, in her words, "I just don't have a big enough butt for Drake." [103.3 AMP]
Poor Dean Sheremet. While his ex-wife, LeAnn Rimes, is gallivanting around with Eddie Cibrian, hatching reality TV ideas, he's talking about how he didn't even see her infidelity with Cibrian coming. [Access Hollywood]
Bobby Moynihan's "Saturday Night Live" joke about being one of the bears in Miley Cyrus' VMAs performance actually had some truth to it. One of the bear-ific back-up dancers is speaking out about "one of the most degrading things I felt like I could ever do." [HuffPost]
Mario Lopez celebrated his 40th birthday on October 10 by looking back at how far he's come - those dimples never change, though:
---

Our daily cheat-sheet for breaking celebrity news, Hollywood buzz and your pop-culture obsessions.