Sir Ian McKellen is a man of his word.
After agreeing to officiate friend and "X-Men" co-star Patrick Stewart's wedding with jazz singer Sunny Ozell, McKellen stepped up to the plate - or would that be pulpit? - on Sunday.
"I did my part," McKellen confirmed on Facebook Sunday, sharing a photo of himself holding up a T-shirt and certificate that ID'd him as a "Doctor of Divinity."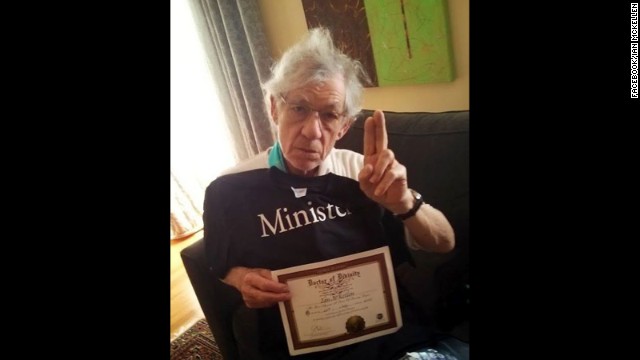 According to reports, Stewart, 73, and Ozell, 35, married September 8 after dating for five years. The actor confirmed his new union on Twitter with a simple "Yes, married" tweet. Judging from the photo he shared, the couple found a way to keep their matrimony friendly to kids and kids at heart:
Stewart's marriage to Ozell is his third. The "Star Trek" actor was previously married to Sheila Falconer from 1966 to 1990, and to Wendy Neuss, from 2000 to 2003.