For her second marriage, Scarlett Johansson is going civilian.
The 28-year-old actress, who was previously married to fellow thesp Ryan Reynolds, is now engaged to her French beau, Romain Dauriac. But before Wednesday, many had never heard of him.
Johansson was seen out with Dauriac at her "Hitchcock" premiere in November of last year, not long after her reported breakup with advertising exec Nate Naylor.
In December of 2012, interest in Dauriac was piqued when Johansson was spotted kissing him in full view of the New York paparazzi. Rumors of an engagement weren't far behind, and it's little wonder why - these two do seem to have common interests.
For one thing, Dauriac is creative but not a part of Hollywood - he's edited the French magazine Clark, and now co-owns an independent advertising agency.
For Johansson, that's a win-win - the "Under The Skin" star has previously hinted that she's not a fan of dating actors although she does appreciate an artistic guy.
"I think there are challenges whether that person's in your profession or not. It's nice that [fellow actors] can relate, and you have a shorthand when you're talking about work, but that can also be monotonous," she told Elle UK earlier this year. "For me, most importantly, I look for a partner who is creative. I like people that have a colorful way of looking at things, that are inspiring and like art, music and film."
And after her first marriage to Reynolds, which lasted for two years, Johansson has suggested that she's wary of being with someone who has the same demanding schedule she maintains.
"I'm not saying more time in the marriage, but just having more time with my ex and really clocking those hours of face time with the person you love, really live together and not having the pressure of two people that have these careers," she told Vogue in 2012.
While Johansson has said that remarrying wasn't a priority, she also has no regrets about tying the knot.
"It was a beautiful thing," she told Vogue of her first marriage. "The falling in love and getting married and making that commitment . . . I think it's nice to know that you're capable of loving somebody in that way. I think it's a rare opportunity."
The opportunity came ago about a month ago, as word has it that's when Dauriac proposed with a vintage Art Deco engagement ring: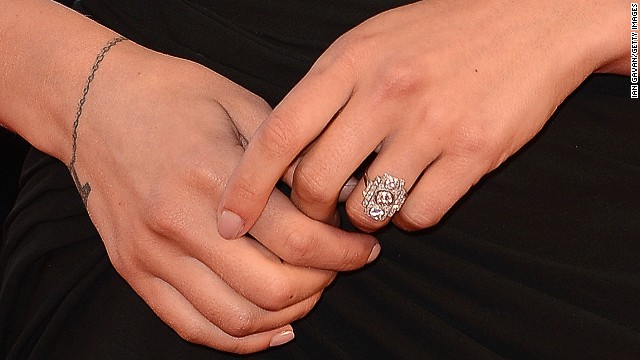 Johansson hasn't commented herself on the engagement, but she was beaming this week as sparkler glinted on the red carpet of the Venice International Film Festival, where she promoted her movie "Under The Skin."