Sandra Bullock and George Clooney make a ridiculously cute couple, but apparently they're nothing more than friends.
The two single "Gravity" co-stars have been in Italy promoting their new space thriller at the Venice International Film Festival, and photos from the event tell a noticeably cozy story. Witness: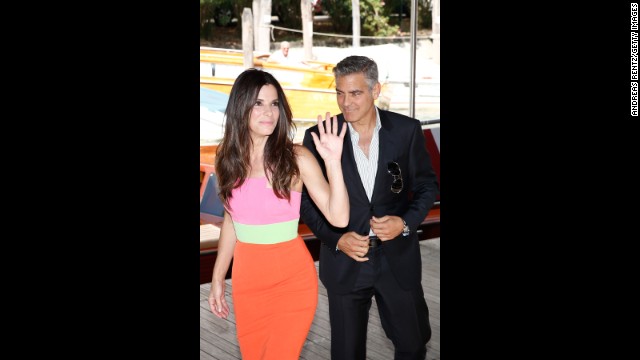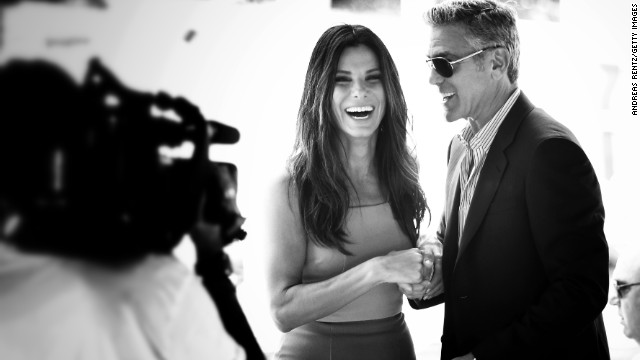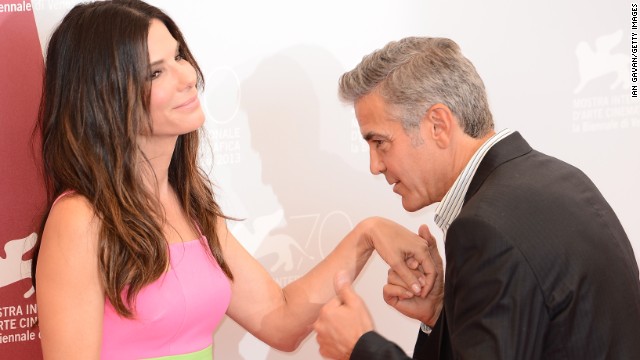 With Clooney once again being one of Hollywood's most eligible bachelors - the 52-year-old broke up with former girlfriend Stacy Keibler this summer - and Bullock being America's Sweetheart, an attraction would be only natural.
But Bullock, 49, told press that any perceived romantic overtures - Brit outlet The Sun swore it caught Clooney "making eyes" at his co-star - are unfounded.
"He was not making eyes," the star said. "Maybe cross-eyes, but that is about the extent of his goggle eyes."
To give Clooney the benefit of the doubt, maybe he was looking adoringly at his friend - as the actor's called Bullock - because of the overwhelmingly positive reviews their new movie has received.
Directed by Alfonso Cuarón, "Gravity" is a breathtaking - and terrifying - look at the aftermath of a space accident involving Clooney's trained astronaut and Bullock's scientist. The preview, which depicts Bullock's character fighting to stay alive, is practically a movie in itself, but critics out of Venice say the full package lives up to its hype.
[youtube http://www.youtube.com/watch?v=ufsrgE0BYf0?feature=player_embedded&w=450&h=360%5D
The Atlantic took note of all the white knuckled in the audience at "Gravity's" screening, and called the picture a "visually astonishing, often terrifying thriller" that "will likely leap to the top of the list of titles aspiring to awards glory."
Time compares it to one of last year's critical darlings, "Life of Pi," as "both are thrilling 3-D dramas of survival in a hostile environment, testaments to human grit and groundbreaking technical ingenuity," and "both are the rare movies that need to be seen once for the 'Wow!' factor and a second time to try figuring out how Cuar‪ón and his technical savants managed to make the impossible seem so cinematically plausible."
Variety, too, could do nothing but gush about Cuaron's suspenseful epic after its Venice bow, predicting that the "nervy experiment in blockbuster minimalism and ... robust movie-movie thrills" should not only restore "a sense of wonder, terror and possibility to the big screen" but also "inspire awe among critics and audiences worldwide."
Clearly, Clooney has plenty of things to smile about.
"Gravity" opens in the U.S. on October 4.