Prevention is always the best policy, and MTV is apparently doing its part.
At this year's Video Music Awards, the network plans to include copies of the book "Ending Addiction for Good: The Ground-Breaking, Holistic Evidence-Based Way to Transform Your Life" in its celebrity swag bags. (Reports suggest the text was crafted by the same rehabilitation facility that treated Lindsay Lohan.)
And that's not all - attendees like Lady Gaga, One Direction, Taylor Swift, Selena Gomez, Kanye West and Justin Timberlake will be gifted with Valentino sunglasses, a hotel voucher for a stay at the JW Marriott Essex House, a Koehler showerhead and Katy Perry's fragrance.
But even more tantalizing than the random assortment of items MTV's collected is the way they're planning to seat their guests.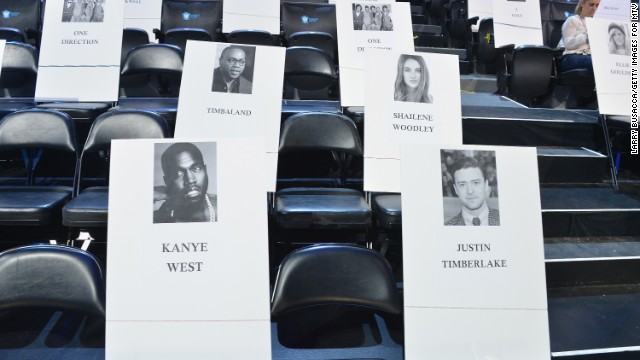 Mr. West is going to have to hang out next to Mr. Timberlake - a.k.a., the same guy whose song he dissed earlier this year. (Maybe Kanye can share the Ovenly nuts from his gift bag to smooth things over.)
BFFs Taylor Swift and Selena Gomez are going to be in front of Drake, who's sandwiched between Ed Sheeran and the band members from Fun.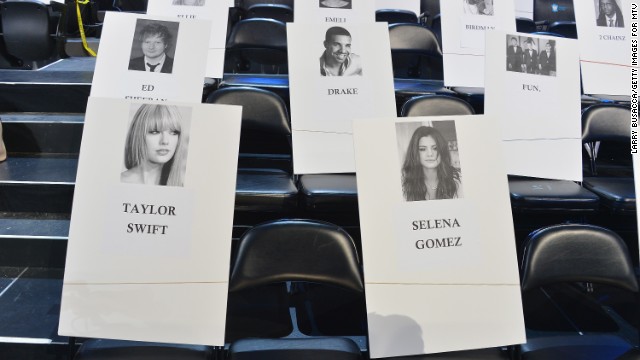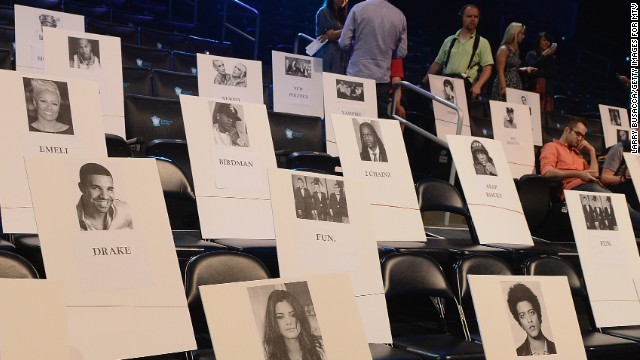 Not far away will be another must-watch pair, Lady Gaga and Katy Perry. The two pop stars, who are battling it out on the singles chart right now and who will both perform at the VMAs, are going to sit side-by-side at Sunday's show.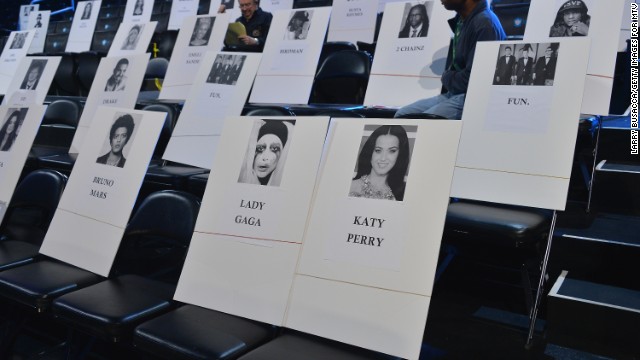 The fun begins on MTV at 9 p.m. ET. We'll be watching - will you?
And if you're curious what else is in those swag bags, check out the rest of the stuff below:
Ballasox Shoes
Ending Addiction for Good (Mastel) book
Blue-Glue Bikini
Brooklyn Nets apparel item
H Fox & Co chocolate syrup
Harvest Snaps snacks
Hello Breath Spray
Invitation Consultants notecards
Junk Food Clothing Yo MTV Rocks t-shirt
Coty Killer Queen- Katy Perry fragrance
Koehler showerhead
KSH Couture pocket square
Logitech Color Collection Eye Candy Color Collection Mouse
Fego Gioielli Jewelry items
Mojo Backpack
Ouya game console
Ovenly nuts
Paper Toy t-shirt
Powerocks power charger
ShutterBall Selfie Shot Helper
Soul Cycle free class pass bandana
JW Marriott Essex House hotel stay coupon or voucher
Griffin Cell Cases w/ VMA Logo cell case
GUY CODE Book
Rep the Code t-shirt
Valentino sunglasses