"Glee" star Naya Rivera has earned accolades as the tough and proud Santana Lopez on the Fox comedy, but one of her prior gigs wasn't as rosy.
The 26-year-old actress used to work at Hooters, she tells the May issue of Allure magazine, and she admits that she has "nightmares about that job."
It sounds like part of the problem is that Rivera wasn't exactly comfortable in her own skin.
The Naked Truth: Celebrities go nude for Allure
"When I was working there, I was really skinny – a lot skinnier than I am now," she said. "But I was always self-conscious. It's so funny now to feel completely different."
That much is evidenced by her photo shoot with Allure, in which the actress adopts a thoughtful pose in the buff, with her arm shielding her breasts.
And although Amanda Seyfried, who covers the newest issue of the beauty magazine, remains clothed, it's not because she's shy about her body.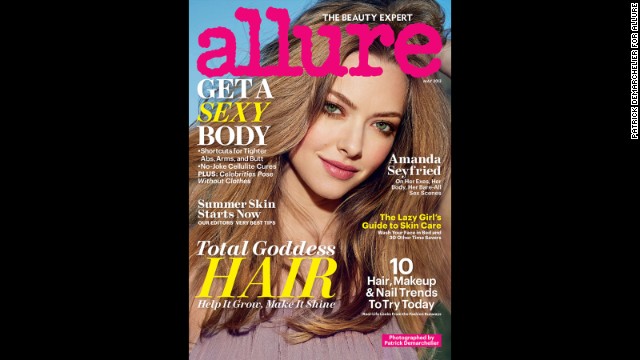 Playing the role of adult film actress Linda Lovelace in the biopic "Lovelace" helped, Seyfried said, because it "made me feel comfortable in my own skin in a way that I hadn't been."
The 27-year-old added that she "saw a picture of [her breasts] a couple of days ago from when I was 19, and my boobs were way bigger ... There was something to beautiful about the size of them. When I look back, I'm like, 'Why did I always give myself such a hard time?' Nobody gave me s*** about it except me."
As for Rivera, her role on "Glee" has had a fun side effect as well. Thanks to her role as the feisty lesbian cheerleader, Rivera's earned plenty of fans in the LGBT community.
"It's kind of cool - and it makes me feel like a badass," she told Allure, which arrives on newsstands April 22. "I get more girls than my boyfriend. They always tweet me about my booty."