Tilda Swinton has been sleeping on the job - just as she's supposed to.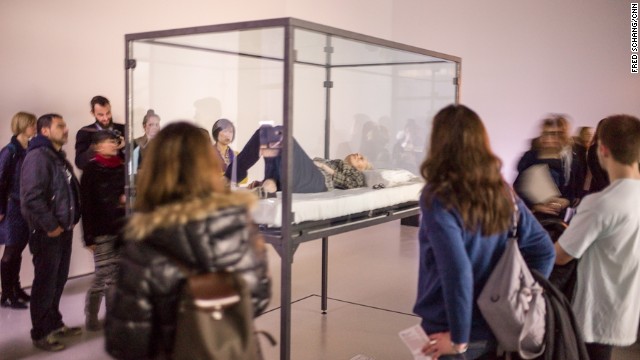 The actress made waves over the weekend after attendees at New York's Museum of Modern Art (MoMA) came upon Swinton sleeping in a glass box as part of a performance piece.
Dressed in jeans and a button-down shirt, the star snoozed on a small bed with her glasses resting next to her pillow, seemingly oblivious to the observers surrounding the clear contraption.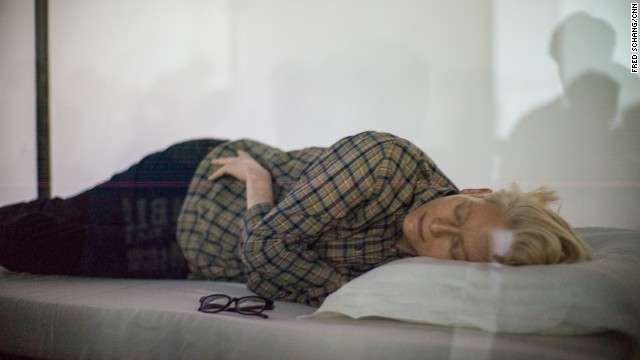 According to a statement, the performance art is called "The Maybe," and is conducted in a way that's specific to the place and time in which it occurs.
"The Maybe" was previously shown in London in 1995. At the time, Swinton slept in a glass box for eight hours during the work day for a seven-day period. In 1996, she did the performance again in Rome, this time leaving her glass enclosure for an hour in the middle of the day and hanging a "siesta" sign on the door.
MoMA spokesperson Margaret Doyle told CNN that "The Maybe" is "a very unusual case" because Swinton didn't ask the museum to actively publicize the attraction, which seems to be a key part of the New York performance.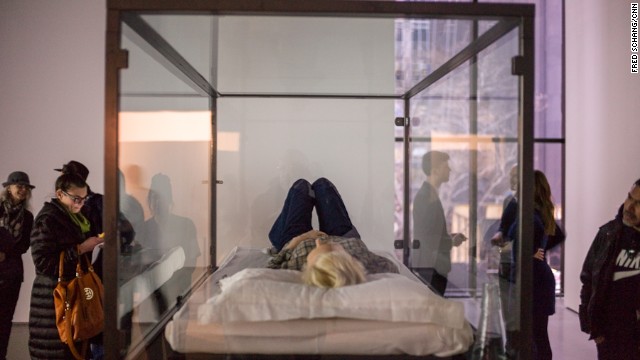 "There is no published schedule for its appearance, no artist's statement released, no museum statement beyond this brief context, no public profile or image issued," the statement regarding the exhibit says. "Those who find it chance upon it for themselves, live and in real - shared - time: now we see it, now we don't."
According to Doyle, "The Maybe" will happen periodically through the end of 2013.