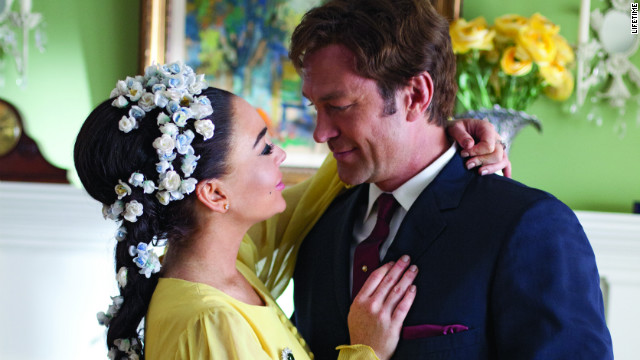 November 18th, 2012
06:08 PM ET
This Thanksgiving, we're grateful for the fact that if we tire of our family's drama over the holiday weekend there'll be a Lindsay Lohan movie to distract us.
The long awaited and much-hyped "Liz & Dick," starring Lohan as Dame Taylor and Grant Bowler as her fiery counterpart, Richard Burton, will debut on Lifetime next Sunday, November 25.
Here's what else you shouldn't miss this holiday week:
Monday
Rihanna's feeling "Unapologetic," and she's poured all of that into a new album - her seventh in seven years. Did you miss the "Nobody's Business" track that leaked? Listen to it here.
Rihanna's not the only one getting ahead of the holiday rush for new albums: Kelly Clarkson's greatest hits compilation, "Greatest Hits: Chapter One," drops today, as well as Phillip Phillips' "The World from the Side of the Moon" and Kid Rock's "Rebel Soul."
Things are getting serious on "The Voice" as just 10 contestants remain. Watch their performances starting at 8  p.m. on NBC.
"No Reservations" may be gone, but Anthony Bourdain, for sure, is not. A new season of "The Layover with Anthony Bourdain" begins tonight at 9 p.m. on the Travel Channel.
Have you been keeping up with Ken Burns' two-part PBS documentary, "The Dust Bowl"? Even if you missed the first half on Sunday, pick things up with the second half tonight at 8 p.m. or 10 p.m. ET - it's airing twice.
If you were ever curious how The Game's engagement with his teacher fiancee turned out, VH1 made an entire reality show about it. Catch the premiere of "Marrying the Game" tonight at 9:30 p.m. ET.
Two of our favorite "J's" are on late night tonight: Jessica Biel's going to sit down and chat with Letterman, and the unfailingly hilarious Jennifer Lawrence will be on "The Tonight Show."
Tuesday
"New Girl's"Jess Day is an odd duck, so we can only imagine what her parents must be like. With this week's "Thanksgiving"-themed episode, airing on Fox at 9 p.m., we get to meet them, as they'll be played by Jamie Lee Curtis and Rob Reiner.
 We loved Grace Coddington in "The September Issue" and she remains the chief reason why we'll be watching HBO's "In Vogue: The Editor's Eye" when it bows December 6, so you know we're anxiously waiting to read her memoir, "Grace," which arrives today.
In new movies/potential holiday presents today, there's a classic option with a Disney re-release of "Cinderella," and a ... well, classic actor option with "The Expendables 2."
Wednesday
It isn't the holidays until Charlie Brown graces our TV screens, as he'll do in a "Charlie Brown Thanksgiving" tonight on ABC at 8 p.m.
Meanwhile, another T-Day classic, "Planes, Trains and Automobiles," will air on The CW tonight at 8 p.m. ET.
If you'd rather head out, every movie you've ever wanted to see this fall opens in theaters today. Alright, so we exaggerate: More like two movies we're really excited about are opening wide. You can catch both "Life of Pi" and "Silver Linings Playbook."
Thursday
OK friends - in preparation for your impending food coma here's a snippet of what's on TV: for starter's, there's New York's Thanksgiving Day Parade at 9 a.m. on NBC and CBS.
And then on AMC, "The Godfather" Part I and II air back-to-back starting at 11:30 a.m. ET. (We know what we'll be watching ...)
And then on ABC at 9:30 p.m., Michael Jackson and/or Spike Lee fans will want to catch the filmmaker's documentary on the making of MJ's "Bad."
Friday
We like to think Comedy Central, in a stroke of Black Friday genius, decided to honor the day with a movie that glorifies shopping in the most entertaining way possible: "Clueless." Hopefully you'll be back from the mall in time to watch it at 2 p.m. ET.
If you're lucky, you might also find "Hitchcock," starring Anthony Hopkins and Helen Mirren, at a theater close to you today. The Sacha Gervasi-directed feature will open in limited release.
---

Our daily cheat-sheet for breaking celebrity news, Hollywood buzz and your pop-culture obsessions.