While Robert Pattinson has been working the late night circuit, endearing audiences with his charmingly respectful decline to discuss That Thing That Happened, Kristen Stewart's been M.I.A. from the public eye.
On Thursday, though, Stewart resurfaced at the Toronto International Film Festival in support of the screening of her film, "On the Road."
It was her first public appearance since she issued an apology for doing something of some sort with her "Snow White and the Huntsman" director Rupert Sanders - widely interpreted as cheating on her boyfriend Robert Pattinson. Stewart draws an audience wherever she goes, but, as the New York Times notes, this was a particularly spotlight-stealing appearance.
The paper reports that what appeared to be "thousands of fans and dozens if not hundreds of media professionals had lined up to receive" Stewart, chic in a knee-length black sheath dress with a mesh-and-lace overlay and floral detail, outfitted with a pair of killer stilettos.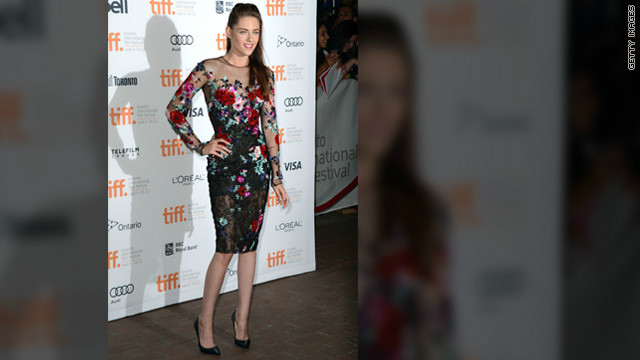 The Times caught sight of what looked like a "pre-game pep talk" from a presumed publicist before Stewart ventured down the carpet, eager to sign autographs and work the many, many cameras capturing her first post-scandal appearance.
Meanwhile, her reported ex and "Twilight Saga" co-star Robert Pattinson was miles away in Los Angeles, presenting a clip from their final film together, November's "The Twilight Saga: Breaking Dawn - Part 2."