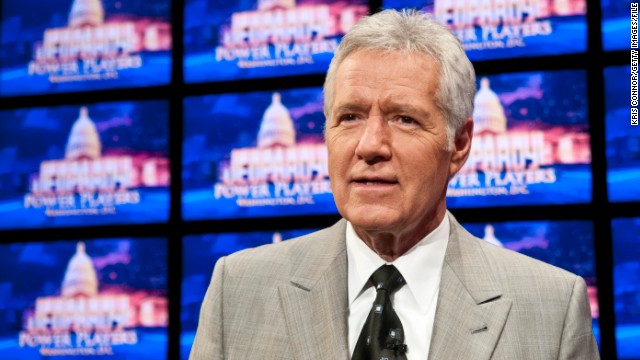 July 24th, 2012
05:48 PM ET
Here's a round-up of the latest confirmed reports from the CNN Entertainment Unit:
Alex Trebek returns to 'Jeopardy' after heart attack: "Jeopardy" host Alex Trebek returned to the set at Sony Pictures Studios Tuesday for the first time since suffering a heart attack. The 72-year old was hospitalized at Cedars-Sinai Medical Center in Los Angeles last month, but "Jeopardy" senior publicist Phil Zimmerman tells CNN, "He is in good health and already planning home improvement projects." "Jeopardy," the winner of 30 Emmy awards, will begin its 29th season on Monday, September 17.

Movie theater attack scene to be removed from upcoming film "Gangster Squad": Warner Bros. is moving to edit a scene in its upcoming film "Gangster Squad" in which gangsters attack a crowded movie theater. A source close to production tells CNN that the scene will be edited and likely removed in light of the Aurora, Colorado massacre that occurred during a screening of another Warner Bros. film, "The Dark Knight Rises." Additional filming and editing of the movie could affect its September 7 release date.
Oscar-winning screenwriter Frank Pierson has passed away: Frank Pierson, the Hollywood screenwriter behind "Dog Day Afternoon," and "Cool Hand Luke," has died at age 87. He passed away in Los Angeles on July 22 of natural causes following a short illness. Pierson is survived by his wife, Helene, his children, Michael and Eve, and five grandchildren. Pierson was a three-time Academy Award nominee, and won an Oscar for his original screenplay of "Dog Day Afternoon." Before his death, he was working as a writer and consulting producer on "Mad Men" and on numerous episodes of "The Good Wife."
98 Degrees will reunite for first time in ten years: Members of the '90s boy band sensation 98 Degrees are officially reuniting this summer for the first time in ten years. The group - which includes Nick Lachey, Drew Lachey, Justin Jeffre and Jeff Timmons - will make a televised appearance on the "Today" show's Summer Concert Series in August, followed by a performance at the MixTape Festival in Hershey Pennsylvania. The band says in a press release: "In the ten years since our last performance as 98 Degrees we've each achieved personal success and [have] grown as individuals, while remaining a close-knit family. We have also been fortunate to have the support and enduring love of our fans every step of the way. With so much to celebrate, this reunion is going to be one big party, so whether you tune in to 'Today' or join us at the MixTape Festival, everyone's invited."
---

Our daily cheat-sheet for breaking celebrity news, Hollywood buzz and your pop-culture obsessions.