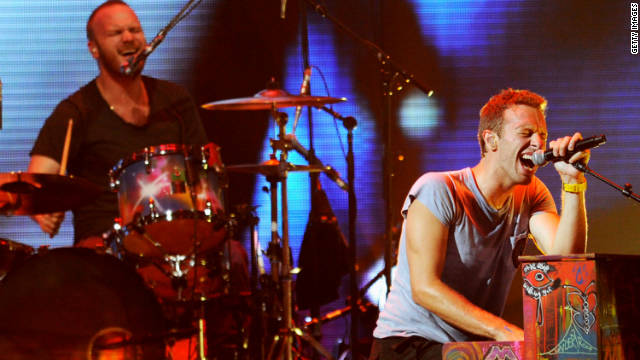 July 11th, 2012
03:48 PM ET
Here's a round-up of the latest confirmed reports from the CNN Entertainment Unit:
Coldplay is launching a new comic book series: Coldplay's announced on its official website that the band's going to launch its own comic book series, "Mylo Xyloto," at Comic-Con in San Diego this weekend. (Because, you know, why  not?) The comic will be part of a six-part series, which, clearly, will be based around Coldplay's latest album. "Three years ago we had an idea with our friend [M]ark [O]sborne about a character called mylo xyloto ("xylo" as in xylophone, "to" as in toe)," says a statement on Coldplay's website. "[G]radually mylo's story and universe came together and this ended up providing the backdrop for the album and tour. [N]ow we're proud to announce that early next year the story's going to come out as a six-part comic. [A]nd to kick things off  mark's going to be holding a panel at comic con in san diego this week."
Judge orders audit on Chris Brown's community service progress: On Tuesday, July 10, Superior Court Judge Patricia Schnegg ordered an audit of Chris Brown's community service progress. The court tells CNN that a probation report on Brown was not submitted during yesterday's hearing, as was previously ordered by the probation department. Brown's next hearing date is scheduled for August 21, and the singer has been ordered to appear in court that day.
Basketball star Shaquille O'Neal gets new series on truTV: Joining the ranks of athletes-turned-reality stars (we're looking at you, Lamar Odom), Shaquille O'Neal has a show coming to truTV called "Upload with Shaquille O'Neal" (a working title). The series is the product of a collaboration between Shaq Entertainment, truTV, and FishBowl Worldwide Media. Said Bruce Gersh, CEO of FishBowl Worldwide Media, in a press release from the network, "Our creative team, headed by Susan Levison, developed a unique show that showcases Shaquille's sense of humor, and his ability to identify the most outrageous videos online."
---

Our daily cheat-sheet for breaking celebrity news, Hollywood buzz and your pop-culture obsessions.