Without much crime to solve in North Carolina's fictional Mayberry, Sheriff Andy Taylor had plenty of time to woo the ladies on "The Andy Griffith Show."
From the widowed father's first girlfriend, Ellie Walker, to his eventual wife, Helen Crump, here's a look back at Andy's on-screen love life:
(In real life, Griffith, who died on Tuesday, was married three times. His first and second marriages ended in divorce in 1972 and 1981, respectively. He married his third wife, Cindi Knight, in 1983.)
Ellie Walker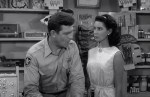 We met Ellie Walker during the show's first season. She came to Mayberry to fill in for her ailing Uncle Fred, the town pharmacist, and ended up becoming Andy's first serious girlfriend. Opie takes a liking to Ellie early on when she offers him a free ice cream cone, under one condition: He can't say "ain't" anymore.
Mary Simpson

Nurse Mary Simpson, played by Julie Adams and Sue Ane Langdon, had a brief stint on "The Andy Griffith Show's" second season. Mary attracted the attention of both Andy and Barney in an episode titled "Three's a Crowd."
Peggy McMillan

Andy dated nurse Peggy McMillan (Joanna Moore) during the show's third season. But when he learned about her cushy upbringing, in an episode appropriately titled "Andy's Rich Girlfriend," their relationship suffered.
Sharon DeSpain

We learned a bit about Andy's past at his high school reunion, which took place during the show's third season. On the episode, he was reunited with his high school sweetheart, Sharon DeSpain, played by Peggy McCay. Of course, it wasn't in the cards for the former lovers. Sharon headed back to Chicago to be a "big fish in a big pond," and Andy moved on to the next.
Helen Crump

Schoolteacher Helen Crump (Aneta Corsaut) is Andy's longest love. The pair dated from the third season through the series finale. They were married on the first episode of CBS spin-off "Mayberry R.F.D."
Which of Andy's on-screen ladies were you hoping he'd end up with? Let us know in the comments below - and don't miss this video of actress Betty Lynn, who played Thelma Lou (the girlfriend of Don Knotts' Barney Fife) on "The Andy Griffith Show" and harbored a bit of a crush on her co-star, Griffith:
(Photos from CBS)