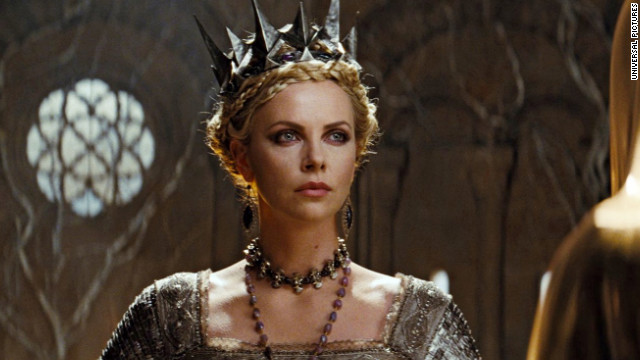 May 27th, 2012
06:00 PM ET
That second Snow White movie is finally here!
"Snow White and the Huntsman" is a darker take on the classic than its Tarsem Singh-directed counterpart, "Mirror, Mirror." However, both films feature hunky blonde-haired, blue-eyed actors (i.e. Chris Hemsworth and Armie Hammer). And we can't deny the chills we get from seeing Charlize Theron as Queen Ravenna in the "Huntsman" promos.
So, if you'd like to compare the two flicks (or just see Kristen Stewart in a non-"Twilight" role), you can catch "Snow White and the Huntsman" in theaters on June 1.
Here's what else you shouldn't miss this week:
Sunday
Time to bid adieu to Harriet "Harry" Korn. In the series finale of "Harry's Law," Harry (Kathy Bates) finds her ex-husband murdered, and with no one there to plan the funeral, she takes it upon herself to do it. She is also representing a man in the murder case of his ex-wife. Watch this episode at 8 p.m. ET on NBC.
As a tribute to the country's military, Joe Mantegna and Gary Sinise will host the "National Memorial Day Concert 2012" which will be broadcast live on PBS starting at 8 p.m. ET. It will include performances by Daughtry, Natalie Cole and the National Symphony Orchestra.
Monday
Luke Bryan and Dolly Parton will make an appearance on "The Bachelorette" and will host separate private concerts for Emily and her two one-on-one dates. Watch them serenade the pairs at 8 p.m. ET on ABC.
Nicole Kidman and Clive Owen will star as Martha Gellhorn and Ernest Hemingway in the HBO original film "Hemingway and Gellhorn." The movie focuses on their romance and how Gellhorn inspired one of Hemingway's famous works, "For Whom the Bell Tolls." Catch the drama at 9 p.m. ET on HBO.
Tuesday
It's the last time you'll see "Cougar Town" ... on ABC that is. The show will be moving to TBS, which is owned by CNN's parent company, and will air its fourth season in early 2013. So catch the third season finale, where Grayson and Jules decide to elope to Napa, with their friends. The episode airs at 8 p.m. ET.
Books coming out this week are; "To Heaven and Back: A Doctor's Extraordinary Account of Her Death, Heaven and Angels and Life Again" by Mary C. Neal, "The Storm" by Clive Cussler, "Cronkite" by Douglas Brinkley, "A Night Like This" by Julia Quinn, "American Grown: The Story of the White House Kitchen Garden and Gardens Across America" by Michelle Obama, "Rescue Me" by Rachel Gibson and "LIFE: Dick Clark and the History of Rock 'n' Roll" by LIFE Magazine.
Movies and TV series coming out on Blu-ray and DVD are; "True Blood: The Complete Fourth Season," "Man on a Ledge," "Andrew Lloyd Webber's Love Never Dies," "Memorial Day," "Coriolanus," "Gone," "Goon," "Rookie Blue: The Complete Second Season," and "We Need to Talk About Kevin."
Music albums being released this week are; "Heaven" by Rebecca Ferguson, "The Absence" by Melody Gardot, "What We Saw From the Cheap Seats" by Regina Spektor, "Valtari" by Sigur Ros, "Magic Hour" by Scissor Sisters, and "Snow White and the Huntsman (OSC)" by James Newton Howard.
Wednesday
Round two of auditions take place in Los Angeles on "So You Think You Can Dance." Watch it at 8 p.m. ET on Fox.
Thursday
If you missed the series premiere of "Duets" last week, then check out the second episode of this music competition show, where Kelly Clarkson, Robin Thicke, John Legend and Jennifer Nettles are the judges. You can watch it at 8 p.m. ET on ABC.
Who would have thought that Hyde from "That '70s Show" would one day be concerned about his dating? Well Danny Masterson has moved from being Foreman's basement-dwelling rebellious friend to being Milo, a recently dumped guy who asks his friends for help in his love life on "Men at Work."  Catch the third episode of this new series at 10 p.m. ET on TBS.
Friday
For those of you who have been following "Best Friends Forever" (which was canceled this month after just one season), don't miss the series finale at 8 p.m. ET on NBC, where the group heads to Atlantic City.
Head to theater to catch these movies; "Piranha 3DD," "Battlefield America" "For Greater Glory" and "Cellmates."
---

Our daily cheat-sheet for breaking celebrity news, Hollywood buzz and your pop-culture obsessions.