Although the Academy initially said they weren't interested in having actor Sacha Baron Cohen attend the Oscars as his character from his upcoming film "The Dictator," Cohen's General Aladeen nonetheless made an entrance to the event on Sunday.
It wasn't unexpected, as producer Brian Grazer told "Extra" that the Oscars would be "thrilled" to have Cohen dressed as the  heavily bearded, comical character at the ceremony.
But perhaps the Academy wasn't expecting the actor would bring along props.
Apparently, as Cohen stopped for an interview with E!'s Ryan Seacrest, he also had an urn with him that appeared to have the face of deceased North Korean leader Kim Jong Il on it, CNN's Nischelle Turner reported from the red carpet.
Turner said that while Cohen was speaking with Seacrest, he spilled something that was intended to look like "ashes" on the TV personality and producer.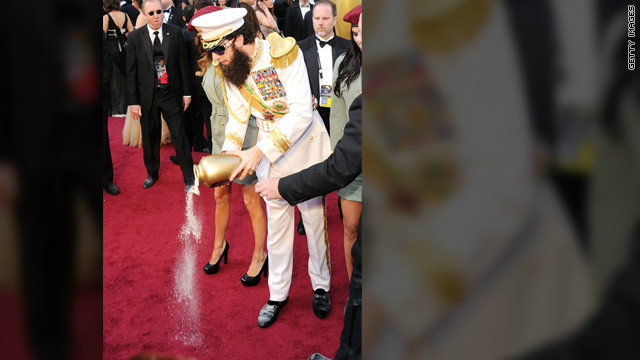 "It was actually very odd, and Ryan didn't look too happy," Turner said. "And then they just herded [Cohen] away very quickly."
The E! host, who was trying to figure out if it was cake mix Cohen spilled on him or Bisquick, later told CNN that he knew when he accepted the offer to interview Cohen in character, he had to be prepared for anything.
"It wouldn't be a simple conversation," Seacrest said. "I wasn't quite sure what, but I was ready for something."
The resulting interview "was a typical Sacha Baron Cohen in character conversation," he added. "And all of a sudden, what felt like pancake mix was on my lapel. This is why we love live TV, right?"