With the Oscars just two weeks away, predictions and buzz continue to surround "The Artist," "The Descendants," and the feature-film categories. By the time the stars line up at the red carpet on February 26, names like Jean Dujardin and Berenice Bejo will have become household names.
But what of the often ignored, yet just as important, two short film categories (live action and animated)? On Friday, ShortsHD and Magnolia Pictures will be releasing all the nominated short films across the United States and Canada.
This year, the live action nominees include "Pentecost"; "Raju"; "The Shore"; "Time Freak"; and "Tuba Atlantic," with the animated shorts including "Dimanche"; "The Fantastic Flying Books of Mr. Morris Lessmore"; "La Luna"; "A Morning Stroll"; and "Wild Life."
CNN spoke with the directors of "The Shore" (Terry George) and "Wild Life" (Amanda Forbis and Wendy Tilby) about their shorts and the artistic freedom the medium provides.
Terry George on "The Shore"
[youtube http://www.youtube.com/watch?v=Li2_932lDys%5D
As a young man growing up in the shores of Killough, Northern Ireland, Terry George heard a story from his uncle that he still remembers to this day.
It was about a friend of his who suddenly and mysteriously fled to New Zealand and returned years later, with a daughter.
"[That story] stuck in my mind, then in early 2010, I said to my daughter, 'Why don't we do a story for the shore?'" George said.
And that's how "The Shore," starring Ciaran Hinds, Conleth Hill and Kerry Condon, was born. But he also wanted to create the short film as an allegory of the peace process in Ireland. So George invented a love triangle as the basis for the story.
"I wrote it as a triangular love story to show how people have decades of misunderstanding," he said.
The director added: "[Northern Ireland is] a stunningly beautiful place that has been neglected. I wanted to highlight the beauty of the place, humor of the people and tell this story of communication."
George's efforts certainly succeeded, as it has led to numerous prizes at film festivals and an Oscar nomination. But this is not the first time he has received Oscar attention. In 1992, George was one of the writers behind "In the Name of the Father," which received seven nominations. He also wrote, produced and directed "Hotel Rwanda," with Don Cheadle, which received three nominations.
Yet for George, working on "The Shore" is a much more personal project, as he involved family members and many of the residents of Killough. He said he enjoyed the freedom and the spontaneity the short style offered, and the lack of chasing after banks for financial backing.
"It was truly an independent film," George said. "It felt like going back to the roots of filmmaking that was lost to me for a while; it was invigorating."
He added: "It's a more realistic medium for young filmmakers. I think it's very liberating … it's an expanding medium."
In terms of the future, George said he plans to do a movie on Sérgio Vieira de Mello, a renowned Brazilian United Nations employee, and another love triangle around the Berlin Wall.
While politically themed movies have always been his passion, he said that it is highly unlikely that he will get to the "big budget stage" with them.
"I'm not sure 'Hotel Rwanda' could get made today," George said. "These days the studios seem to be preoccupied with huge budget and 3-D movies. I still look for political stories and push for those to be made. But I'm a bit more realistic about the chances."
Amanda Forbis and Wendy Tilby on "Wild Life"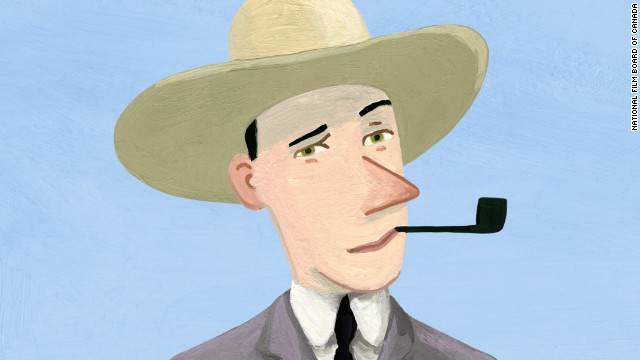 Click on the image to watch the trailer of "Wild Life"
Amana Forbis and Wendy Tilby grew up drawing and painting from childhood. So to them, it seemed natural to gravitate toward the world of animation.
In their latest animated short, "Wild Life," they turn keen artistic eyes on the immigrant experience in their country, Canada.
The story follows a young Englishman who moves to Alberta in 1909 to make a life for himself. But he is unable to cope with the tough prairie life and starts to miss his previously luxurious lifestyle.
"The character is a fish out of water," Tilby said. "When he gets to Canada … he really is quite ill-equipped to survive. All the education in the world couldn't save him."
"We are definitely pondering it from an immigrant's perspective," Forbis said. "They have to make these huge cultural adjustments.
She added: "It is a comment on cultural superiority. Certain nations think they are superior because they have some economic superiority, but they can be just as vulnerable."
For the two directors, it was important to be able to show the vulnerability and the history. To get that vintage feel, Forbis and Tilby decided to hand paint their animation and then bring it to life using Flash, rather than using just computer images. The result for the viewer is the effect of a moving painting – unique enough to catch the eyes of the members of the Academy of Motion Picture Arts and Sciences.
"The time deserved the kind of texture that you can get with real paint … We tried to capture the bleakness that are the prairies," Tilby said.
Since the National Film Board of Canada, the studio behind the short, has made it clear that money is not the first aim, the directors said that they find it "incredibly freeing."
That allows for a lot more individual creativity, they said.
"The appeal is that we can work in a solitary nature … essentially we are making the film ourselves," Forbis explained. "Anything you can imagine within your skill, you can create. It's like creating your own world."
"Animation is such a different animal from live action. It brings extra warmth and charm," Tilby added. "There is no instant gratification, but when you see it moving for the first time … nothing like it."
Forbis and Tilby said that they continue to do commercial work in Los Angeles and will be starting some theatrical projects with the Alberta Ballet.