Janet Jackson has landed on PETA's "naughty" list this holiday, and Kim Kardashian isn't far behind.
The animal rights organization has named Jackson "Grinch of the Year" for launching a collection with fur company Blackglama, according to GossipCop.
"When Janet Jackson had her infamous 'wardrobe malfunction' during the Super Bowl, at least the flesh that popped into view was her own - unlike the stolen animal skins that she drapes herself with, which are as dead as her taste in fashion (not to mention her career)," the organization says in a press release.
PETA doesn't mince words with Kim Kardashian, either.
"Some have speculated that Kim Kardashian's wedding to NBA forward Kris Humphries was fake. Too bad the socialite princess doesn't have the same enthusiasm for faking her fur," the org says. "Unlike her sweet sister Khloe, who starred in her own PETA anti-fur ad, Kim just can't seem to divorce herself from fur and say 'I do' to a kind and kompassionate wardrobe."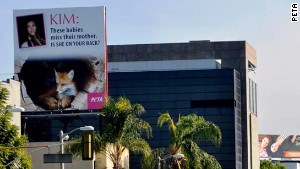 They don't stop there, however. PETA further questions Kim's sartorial choices with billboards that call her out for wearing fur. The images depict Kim's face next to a photo of foxes and a headline that reads, "Kim: These babies miss their mother. Is she on your back?"
Lisa Lange, PETA's senior vice president, tells CNN in a statement regarding the billboards, "Kim is clearly oblivious to the horrific suffering of animals for fur, but it will be tough for her to ignore this billboard. By putting her cruel and out-of-touch fashion choices on display, we hope that Kim will be compelled to make a change, and shoppers will be motivated to make more compassionate purchases."