Dressed in black with a chic chignon, Mila Kunis kept her word to Sgt. Scott Moore and attended Friday's Marine Corps Ball in Greenville, North Carolina.
An enlisted Marine who was also in attendance tells People magazine that the 28-year-old star was "very nice and very respectful" at the event. "She gets credit and a lot of respect for coming here, not being a part of this world, and following through on her word."
The official Twitter account for the U.S. Marine Corps posted a photo of the two, and a spokesperson for the Marines added to Access Hollywood that "everything went well. It was a great experience for everybody."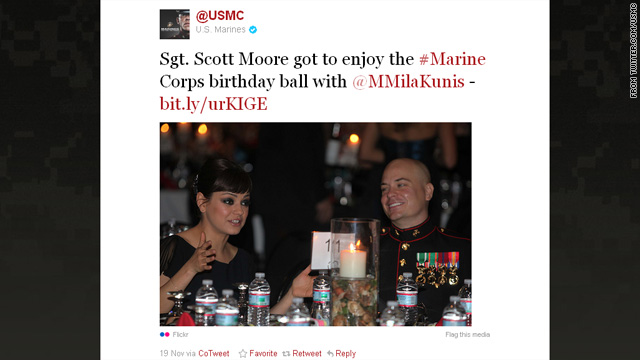 In June, Sgt. Moore invited Kunis to the November 18 Marine Corps Ball via a video on YouTube, and after a healthy amount of confusion as to whether she'd go or not, Kunis confirmed at a press event that she was in fact attending.
"There's no need to applaud, it's nothing great," she said at the time of the excited reaction to her confirmation. "I accepted an invitation and I'm staying true to my word. I got permission to be released from work for the day, so I'm flying in and flying out."
Last weekend, Kunis' "Friends with Benefits" co-star Justin Timberlake also attended a Marine Corps Ball in Richmond, VA with Cpl. Kelsey de Santis. The 30-year-old actor wrote a blog post about the event, calling it a night he'll never forget.
He wrote, "To all of you that serve every day for us... Ensuring our freedom, I say: My deepest gratitude to you. I've met so many of my heroes, from Michael Jordan to Michael Jackson. And nothing makes me feel more honor and pride than when I get to meet one of you. Last night changed my life and I will never forget it."