Rooney Mara may not have looked the part of Stieg Larsson's "Girl with the Dragon Tattoo" at first, but she understood the character of Lisbeth Salander more easily than you'd think.
"I am very slow to warm," she tells Vogue in an interview for the magazine's November issue. "I've always been sort of a loner. I didn't play team sports. I'm better one-on-one than in big groups...I can understand wanting to be invisible and mistrusting people and wanting to understand everything before you engage with the world."
Read the full interview with Mara in Vogue
But of course, Mara's physical presence had to change dramatically. Gone is the fresh-faced Ive League look she sported in director David Fincher's "The Social Network" - they've been replaced with a starkly black dye job, severe haircut, bleached brows, slight frame and piercings.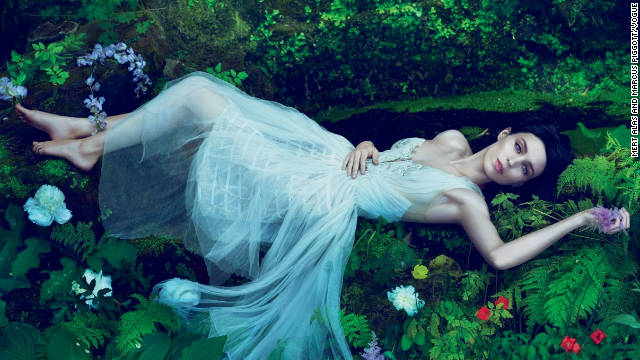 As she explains to Vogue, "one of the things that makes our version [of 'The Girl with the Dragon Tattoo'] much more heartbreaking [than the Swedish adaptation] is that even though I am playing a 24-year-old, I look much younger. I look like a child."
The casting process for Lisbeth was closely watched and exhaustive. Fincher, who is once again instructing Mara from the director's chair, says that at one point he started to think that maybe the actress he needed for this part didn't exist.
Vogue's annual age issue portfolio
"I believe in casting people whose core - that essential personality you couldn't beat out of them with a tire iron - has to work for the character," he explains, adding that he wasn't quite sure Mara had what he was looking for. But then again, neither did anyone else he'd seen.
"We flew people in from New Zealand and Swaziland and all over the place," he says. "Look, we saw some amazing people. Scarlett Johansson was great. It was a great audition, I'm telling you. But the thing with Scarlett is, you can't wait for her to take her clothes off."
Instead, the director continues, he needed a Salander who was kind of like E.T.
"If you put out E.T. dolls before anyone had seen the movie, they would say, 'What is this little squishy thing?' Well you know what? When he hides under the table and he grabs the Reese's Pieces, you love him! It has to be like that."
"The Girl with the Dragon Tattoo" opens December 21. Read the rest of Mara's interview in Vogue when the issue hits newsstands October 25.