Kim Kardashian's ample backside has oft been the subject of a "is it real or is it fake?" guessing game, and now the 30-year-old reality TV star is trying to set the record straight.
On an upcoming episode of "Keeping Up with the Kardashians," the soon-to-be Mrs. Humphries headed to the doctor for an X-ray to prove that her tush is implant-free.
In a promo clip for the show, Kim explains to her physician that her sisters "dared me to get a butt X-ray, because there are so many rumors that I have butt implants, and I'm so tired of them."
Her sister Kourtney got an X-ray of her breasts to show what implants would look like.
On her blog, Kim's sister Khloe posted the photographic evidence of Kim's backside along with the caption, "Hey dolls. The PROOF is in the X-ray. Kim's ass is 100% real!!!"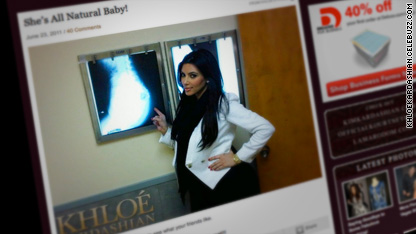 Kim retweeted the link to Khloe's blog post, adding, "Haha! The things my sisters have me do! Proof baby!"
See the examination go down Sunday night at 10 p.m. ET on E!.