Lindsay Lohan may be under house arrest but that doesn't mean she can't be social.
The actress, who's been in and out of legal hot water for the past few years, was fitted with an ankle bracelet in May and sentenced to home confinement.
She's still been able to shoot a commercial while on lockdown, though, and she also invited celebrity weekly Life & Style over to her $2.25 million three-bedroom home in Venice Beach for a little chat.
"I'm a very social person, and I like being outside, especially in Venice Beach. I'd like to get out more — just going out and having dinner," Lohan told the magazine. "I was really upset not being able to go to my little brother's birthday party. He just turned 16. That bummed me out."
Instead of heading out and about, she says she's been having "a lot of work-related meetings. Sometimes my friends come over. And I get to see my sister, Ali, which is nice."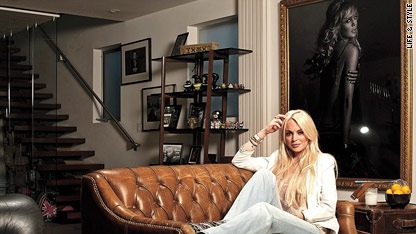 But Lohan - who has spent more than eight months in substance abuse rehabilitation and has had two drunk driving arrests - says that even when she does have gatherings, there's a no-alcohol rule.
"When my friends come over, they're not drinking," she says. "Alcohol is not in my house, so it's just not a part of my life."
Lohan will turn 25 on July 2, and she says she hopes her critics can understand that she's maturing. "I've grown up — and I'm willing to do what I have to do to prove that," she says in the interview.
"This may come as a shock, but I mean it: I want to start my community service. I want to finish that so I can work in August and September," she goes on. "You go through experiences. I do understand that I need to gain some of the respect back, but I'm willing to work hard for that. I understand the situations I've put myself in, and I don't want to go back to that."
However, she does add that when she's taken off house arrest, hitting up a club or two isn't out of the question. "I don't think you should ever say never," she tells Life & Style.
Read the full interview in this week's Life & Style, available nationwide Friday.