And the timeline continues.
The saga of Lindsay Lohan's legal drama adds another chapter today as her lawyer entered a no contest plea on behalf of Lohan on Wednesday. The judge sentenced Lohan to serve 120 days in jail, which is likely to mean just a month in home confinement. She also has to complete 480 hours of community service after she finishing the jail or home confinement time.
Lohan didn't make a court appearance this time around, but she has until June 17 to report to a sheriff's station for booking before being fitted for an ankle bracelet that will monitor her movements.
Over the past four years, Lohan has gone from one sticky situation to the next. Between the rehab stays, the court appearances and the jail time, we understand that it can be a lot to keep up with.
If you've been asking yourself, "just how many times has Lindsay landed in hot water?" well, here's a timeline:
January, 2007: Lindsay Lohan entered a drug rehab program for the first time. She continued work on the movie "I Know Who Killed Me" during her 30-day stay at the Wonderland Center in Los Angeles.
May 26, 2007: The actress was arrested on a misdemeanor drunk driving charge after she lost control of her Mercedes-Benz convertible and struck a curb in Beverly Hills, California. She checked into Promises Treatment Center in Malibu for her second visit to rehab. Lohan was voluntarily fitted with an alcohol monitoring bracelet after her release from her 45-day rehab stay.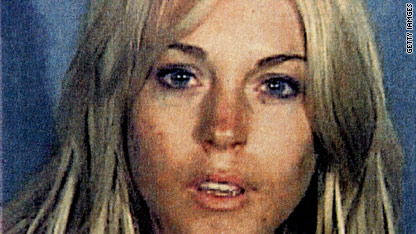 July 24, 2007: Just two weeks after checking out of rehab, she was arrested again. A woman called Santa Monica police saying Lohan was trying to run her down with a car. Lohan was charged with drunk driving, cocaine possession and driving with a suspended license.
August, 2007: Lohan entered rehab for a third time, this time at the Cirque Lodge Treatment Center in Sundance, Utah.
August 23, 2007: She pleaded guilty to misdemeanor cocaine use and driving under the influence. The actress was sentenced to serve one day in jail, 10 days of community service, and three years probation; to pay a fine; and to enter an alcohol education program.
November 15, 2007: Lohan serves just 84 minutes in a Los Angeles County jail. The sheriff explained jail overcrowding allowed him to shorten her stay.
March 13, 2009: An arrest warrant for Lohan was issued because of a probation violation allegation. The judge dropped the warrant several days later when she decided that Lohan was in full compliance but the paperwork was not updated.
October 16, 2009: A Beverly Hills judge extended Lohan's probation for the drunk driving conviction for a year to give her more time to complete a required alcohol counseling program. Judge Marsha Revel warned Lohan she would go to jail if she hears again that the actress has not been attending meetings. The judge said that while she wanted Lohan to have her career, she could not "thumb your nose" at the court.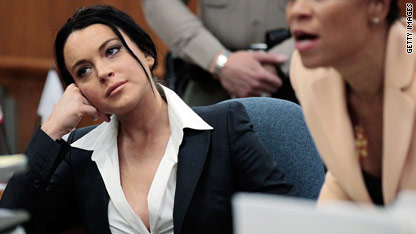 May 20, 2010: Lohan missed a required court hearing in which the judge was to determine if she has been attending weekly alcohol counseling sessions as ordered. Defense lawyer Shawn Chapman Holley told the judge Lohan was unable to fly back from the Cannes Film Festival in France because she lost her passport. An arrest warrant issued by the judge at the hearing was withdrawn after a representative for the actress-singer posted her $100,000 bond.
May 24, 2010: New bail conditions were imposed on Lohan when she appeared at a rescheduled hearing. A stern-faced Judge Marsha Revel ordered the actress fitted with a bracelet to detect alcohol, a ban on drinking and random weekly drug testing.
July 6, 2010: Judge Revel ordered Lohan to serve 90 days in jail for missing alcohol counseling sessions in violation of her probation. The judge also ordered Lohan to spend 90 days in a drug and alcohol rehab program after her jail term is completed. "I did do everything that I was told to do and did the best I could," a sobbing Lohan told the judge. Photos later revealed a profane message painted on her fingernails during the hearing.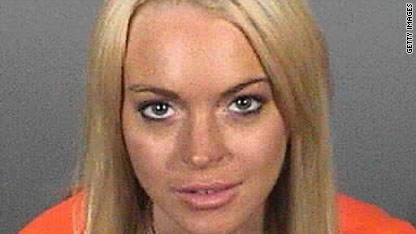 July 20, 2010: Lohan was put in handcuffs in a Beverly Hills, California, courtroom and taken to jail to begin her jail term.
August 2, 2010: Lohan was released from the Lynwood Correctional Facility after less than two weeks behind bars. She was immediately taken to Ronald Reagan UCLA Medical Center in Los Angeles to begin her court-ordered rehab.
August 24, 2010: Lohan is released from rehab after just 23 days.
August 26, 2010: Judge Eldon Fox, who replaced Revel, imposed a new set of probation rules which allowed Lohan to live in her West Hollywood, California, home. "She has learned her lesson," defense lawyer Shawn Chapman Holley told the judge.
September 17, 2010: Lindsay Lohan acknowledged through Twitter postings that she failed a drug test, but the actress said she's "working hard to overcome" her drug addiction. "Regrettably, I did in fact fail my most recent drug test and if I am asked, I am prepared to appear before judge Fox next week as a result," Lohan tweeted.
September 24, 2010: Lohan returned to court, where Judge Fox ordered the preliminary revocation of her probation based on a probation report saying she tested positive for controlled-substance use. She showed no emotion as deputies handcuffed her hands behind her back and walked her out of the Beverly Hills courtroom for the drive to jail. Lohan was released later that night after another judge overturned the decision and granted a $300,000 bail. She was re-fitted with an alcohol-detection bracelet.
September 28, 2010: Lohan checked herself into the Betty Ford Center in Rancho Mirage, California, for substance abuse rehab.
October 22, 2010: A judge ordered Lohan to remain in a drug rehabilitation program until January 3 for a probation violation. Judge Fox warned that if she violates the rules of her rehab program or fails a drug test before her next court date on February 25, 2011, she would be sent to jail for 180 days. Staying clean and sober until then would end Lohan's supervised probation and she can "put this long episode behind you," Fox said.
December 12, 2010: Lohan is involved in an incident with Dawn Holland, a Betty Ford Center staffer who was later fired after information was leaked to the media.
January 3, 2011: Lohan leaves the Betty Ford Clinic and moves into an apartment in Venice, California.
January 4, 2011: The Riverside County Sheriff's Department said Lohan violated probation when she allegedly tussled with Holland during rehab.
Authorities said they would send the results of their investigation to the district attorney's office to decide if the actress should face battery charges. Holland has said she will no longer cooperate with the investigation and does not want charges filed, the department said.
January 22, 2011: While shopping in Venice, Lohan visited the Kamofie and Company jewelry store. She allegedly walked out with a "one of a kind" necklace, valued at $2,500, around her neck. A store clerk later called police to report it missing, triggering an investigation by the Los Angeles Police Department.
February 1, 2011: Los Angeles Police Department's Pacific area obtained a search warrant to look in Lohan's Venice apartment for the missing necklace. It was handed over to police by someone associated with the actress before the search could begin.
February 9, 2011: Lohan is charged with felony grand theft by the Los Angeles County District Attorney. Her arraignment was set for that afternoon.
February 23, 2011: Lohan makes her eighth court appearance in nine months for a hearing set by Judge Keith Schwartz. The hearing was scheduled to consider her probation now that she's been charged with stealing a necklace from a Venice, California, jewelry store.
March 10, 2011: Lohan's ninth court hearing in 10 months occurs as the judge gives her two weeks to decide if she's going to accept a plea deal or move closer to taking the theft case to trial.
March 24, 2011: Lohan rejects a plea deal. A preliminary hearing was set for April 22, so a judge could hear evidence to determine if the case should go to trial.
April 23, 2011: Lohan spends five hours in custody before posting a $75,000 bond after being sentenced to 120 days in jail for violating her drunk driving probation by being charged with theft. She was also ordered to perform 480 hours of community service. Her felony theft charge, however, was reduced to a misdemeanor.