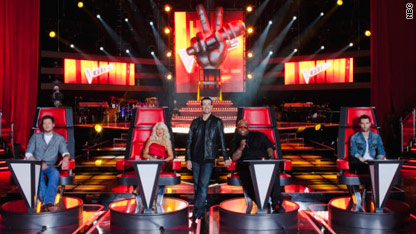 NBC's relentlessly promoted singing competition "The Voice" finally arrived on Tuesday night, kicking off with two hours hosted by none other than Carson Daly.
Last night was the first round of the "blind auditions," when potential contestants perform as the coaches – that would be Cee Lo Green, Adam Levine, Christina Aguilera and Blake Shelton - listen with their backs to the performer.
Some of that roughly 120 minutes felt tedious - did we really need to see a mini-performance from the coaches right off the top? – but once they rolled out their first contestant, "The Voice" began to show its virtues (as well as a few of its flaws).
The idea is that it's not just the performers who are in a competition, but the coaches as well. Each of the four famed recording artists has to build a team of 8 singers, one of whom will eventually win $100,000 and a Universal Republic recording contract while the coach gets the…bragging rights, we guess, of being the one to discover said voice.
So if a coach likes what he or she hears as the singer performs during the blind auditions, they have to chime in with a buzzer. If more than one coach wants the singer, they have to make their case and let the performer decide.
Entertainment Weekly's Ken Tucker notes that "The Voice" "was less about the strenuous voices of the singers than the yammering voices of its celebrity 'coaches,'" but that dynamic quickly revealed itself to be the most entertaining part of the show.
The singing was fine and all – "The Voice" only spotlights those who can actually carry a tune, versus "Idol's" tradition of point-and-laugh auditioning - but with the exception of a few stand-out performers, it was the coaches and their banter that kept my attention. Plus, it was a refreshing change to see the coaches begging for an opportunity to work with a singer instead of the contestants doing the groveling.
But as Gawker points out, "When tallying the number of times Aguilera makes a weird facial expression is the most entertaining thing about a heavily hyped new reality show, then that's a problem."
First up was 31-year-old Tarralyn Ramsey, who had a rocky start but showed more strength and confidence in her skills towards the end. Christina Aguilera and Cee Lo both hit their buzzers, and Tarralyn sided with Xtina.
The following contestants followed the same pattern: Country singer Patrick Thomas, 20, took the stage and sang a solid rendition of "Live Like You Were Dying," and when it came down to choose between Cee Lo, Adam and Blake, Thomas understandably went for Mr. CMA male vocalist of the year, Blake Shelton.
The rest of the first hour was enjoyable but it still lacked in suspense, which industry trade paper Variety has dinged as a potential problem.
"'The Voice' might find its stride in subsequent episodes, but for all the high-powered pop wattage on display, it's a concept with surprisingly little juice," Variety's critic says. "The show's big gimmick - that the judges don't see the artists during their audition, sitting with their backs to them - turned out to be completely ho-hum."
Not even the appearance of Frenchie Davis, the former "American Idol" contestant who got the boot for some risqué photos she posed for at 19, could drum up any excitement. She sang her way onto Christina Aguilera's team with an unimpressive rendition of Katy Perry's "I Kissed A Girl." (This may not be "Idol" but song choice still matters, people.)
A married couple from Nashville also made it through after singing a beautiful version of "Falling Slowly," landing on Blake's team, and Cee Lo snatched up coaches favorite Kelsey Ray, whose performance of "American Boy" was almost overshadowed by her looks once the coaches turned around.
If there's a bone to pick, that was it for me: Please, please, please stop acknowledging that this show is all about "the voice." The remarks of how "cute" or "pretty" or "well-matched" the contestants were once the coaches spun around to see the him or her was laid on a little too thick.
We get it; this singing show is supposed to be all about talent as opposed to image or age or stage presence but let's be honest – someone had to cast these people. And they likely didn't do it with their backs turned.
By the time we got to the second hour though, there was a moment of actual suspense and surprise as 22-year-old Jeff Jenkins took the stage and proceeded to blow the coaches away singing "Bless the Broken Road." Jeff's performance and the ensuing "battle" to work with him was clearly "The Voice's" concept at its best, even though they should've issued a spoiler alert for tipping the audience off that Jeff would end up with Adam Levine.
For me that moment of cohesion came only a few times throughout the two hours, notably with 33-year-old Javier Colon, whose take on "Time after Time" I briefly considered buying on iTunes, as NBC kept encouraging me to do.
Yet while the critical reaction has been middling to harsh - not even Carson Daly escaped critique, with the Village Voice saying his role is a "massive liability" - the viewers seemed to eat it up.
"'The Voice' is a great show," tweeted Buff1der. "I've never watched any of these talent tv shows before but I'll be watching this when I can." The sentiment was repeated throughout the Twitterverse as the show closed out: "Ok, so 'The Voice' kind of rocked. I think we'll make this a weekly thing," wrote one user, while another tweeted, "The Voice kicked ass. i love it." Said yet another,"I approve of the Voice. The show was entertaining. Far more interesting than 'Idol.'"
Both iReporters Sukhraj Beasla and Kathi Cordsen enjoyed it, and perhaps this tweet summed it up the best: "'The Voice' was about a million times better than I thought it was going to be."
If you watched it, what did you think? Are you planning on tuning in next week? Let us know with an iReport or with a comment below!