It's the moment "Twilight" fans have been waiting for: Robert Pattinson is finally opening up about his relationship with Kristen Stewart. Sort of.
"It's just very traumatic," Pattinson says of their rumored romance in Vanity Fair's April issue. "When ['Twilight' mania] is over, the media will lose interest [in the relationship]. There'll be nothing to say. It won't fit into a headline anymore. It won't fit into a template."
See all of Vanity Fair's "Twilight" coverage
While Pattinson doesn't confirm that they're dating, he does admit that he has long admired Stewart.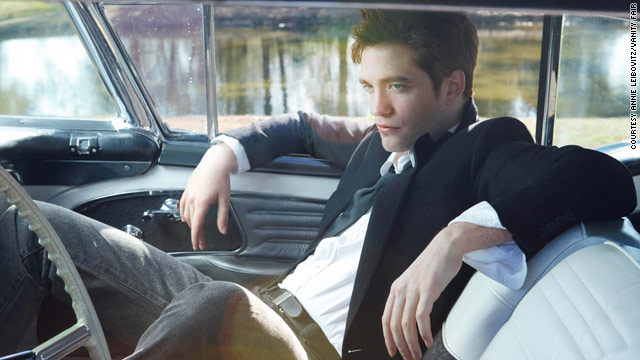 "She's cool," he says. "Even before I knew her I thought she was a really good actress. Like, I saw 'Into the Wild,' and I thought she was really good in that. I still think there are very few girls in her class that are as good as she is."
Another person the "Water for Elephants" star admires: Charlie Sheen and his "little escapades," Pattinson tells VF. "I like crazy people who don't give a f—."
Not surprisingly, Pattinson is hooked on Sheen's TV show.
Photos: Robert Pattinson's Vanity Fair portraits
"I never change the channel in my trailer. I just watch reruns of 'House of Payne' and 'Two and a Half Men,'" he says. " I love 'Cops' — I think it's my favorite TV show… God, I sound like such a loser."
But that's not the 24-year-old star's only addiction.
"I'm, like, a compulsive eater," he says. "I'm going to be so fat when I'm older, it's ridiculous."
Read more from Vanity Fair's interview with Robert Pattinson when the issue arrives on newsstands March 3 in New York and L.A. and March 8 nationwide.