Do you wish you could walk down the aisle in Chelsea Clinton's white organza wedding gown?
ABS designer Allen Schwartz thinks you should.
The gowns Chelsea and Hillary wore to the former first daughter's New York wedding inspired two new designs by Schwartz. The designs, which were put together in about eight hours on the Monday following Chelsea's wedding, are very special to the designer.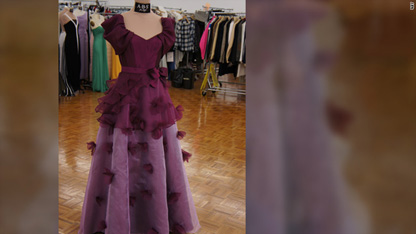 "Anybody could get married in that dress – whether they're a small size, an 8, 10, 14," he said. "It's a very forgiving dress."
Schwartz, who calls Chelsea's gown "a big mushroom flower," said he could have made a dress inspired by any celebrity wedding this year, but there's a reason he chose Chelsea's.
"This particular dress … was so special. I thought this weekend, in a much more simple way, Alicia Keys looked beautiful," Schwartz said. "But [Chelsea's] was a real wedding gown."
The dress inspired by Chelsea's gown is priced at $350 while the design inspired by Hillary's is priced at $300.