Yes, that's Chris Hemsworth working those guns up there.
But that's besides the point. Marvel has unleashed more images from its upcoming movie "Thor," starring the aforementioned (jacked) Hemsworth as the Asgard warrior sent to live amongst humans, Natalie Portman as Jane and Anthony Hopkins as Odin.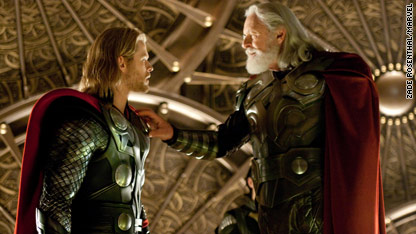 Marvel has been whetting appetites for "Thor's" preview at San Diego Comic-Con for a while now, and these images seem to be adding to the anticipation.
The feature will find its way to theaters on May 6, 2011.