Lady Gaga didn't make it down to the field during the New York Mets vs. San Diego Padres baseball game yesterday afternoon, but she certainly caused a foul play.
The international superstar didn't take kindly to the prime seats she was given at Citi Field right behind home plate, and was caught on camera flipping off any onlookers.
While it's unclear what caused her to making the obscene gesture, FoxSports reports that Mets fans were booing the singer, while others have speculated she was angered because she was right behind a slew of photographers who were snapping photos of her hanging out with friends and enjoying a beer.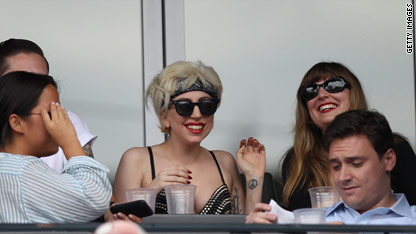 Gaga and her group relocated to Jerry Seinfeld's luxury box later in the game, where she continued to give any onlookers two middle-finger salutes. The pop star later shed her jacket to reveal that she was clad in nothing but a bra and underwear set that looks just like the one she wore in her "Telephone" video.
If you witnessed this craziness with your own eyes, tell us the story in the comments below.