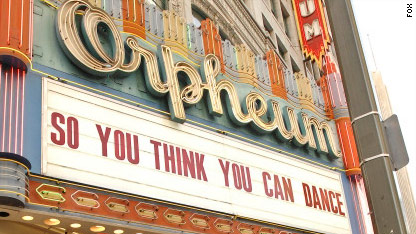 Wednesday was the second night of auditions, and it's usually at this point in the season of "So You Think You Can Dance" when it starts to sink in that many of these amazing talents we're seeing won't go all the way. We certainly saw a lot of incredible dancing, with thankfully very few "train wrecks."
If there's one truism about the world of dance according to "SYTYCD," it's this: phenomenal female contemporary dancers apparently grow on trees. That was certainly true this go-round. If New York and Miami were overloaded with male talent, it was almost entirely women (and a few nameless guys not worth featuring, it seems) being sent to Vegas from the Los Angeles auditions.
We saw every kind of contemporary girl out there: ones with gymnastics backgrounds like cheerleader Lauren Froderman and wannabe-Olympian Rachel Girma (with the jaw-dropping attitude turn); forces of nature like Taylor Costello; ones that gave us déjà vu like Alexie Agdeppa; and of course, at least one with a prior connection to a judge, Ryan Ramirez.
In Ryan, in particular, you had a dancer with strong potential to go all the way to the top 10 (there were signs of a hip-hop dancer in there, too). It was almost insulting that they sent her to choreography, she was so good. And her story, being mentored by Mia Michaels after putting her dance training on the line in order to save the family home, was one of many tearjerkers in this episode. If someone wasn't dancing for the birth mother they never knew, they were dancing for their brother with spina bifada (I'll get back to that later).
But it wasn't all contemporary: sizzling ballroom dancer Cristina Santana and tap dancer Melinda Sullivan made it through to Vegas. I have higher hopes for Cristina than Melinda.
I would be remiss without mentioning martial artist/B-boy Hella Hung. Unlike so many who audition with far more personality than they have talent, Hella's attitude was so infectious, I wouldn't mind seeing him try out again (at least we're rid of Sex).
Moving on to Chicago, I immediately spotted another top 10 contender: Kent Boyd, the small-town guy with Jakob-esque jumps. For those keeping track, that makes three I predict we'll see in the final competition, including Ryan and Tyrell Rolle from the premiere.
Hip-hop dancer Jarrod Mayo was another rare shining star for the guys in Chicago. Another was Andrew Phillips, the aforementioned dancer with a twin brother with spina bifada. That one really got me (I'm not made of stone!).
There were other guys...but they didn't make it, like Christopher Gilbert, whose work with and without a cane reminded me of Robert Muraine, and the inspiring Jarrell Robinson, who could "feel the music" despite his hearing loss.
With so many talented women, and only five spots, I'm thinking we'll see two non-contemporary dancers in the competition at best, but we'll certainly have a better idea of how it's going tonight as Vegas week begins. Another fearless prediction: With 12 all-stars, might we see a surprise 12 finalists?
What do you think of how the auditions are going so far? Care to make any predictions on who will make the top 10 this early on? Did you manage to get through the entire episode without getting "something in your eye?" Share your thoughts on video, or in the comments below.