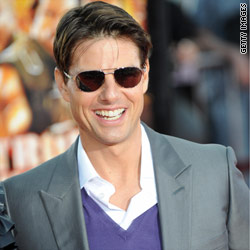 Tom Cruise gets down and dirty with Robert Pattinson in a hilarious new promo for the 2010 MTV Movie Awards.
Reprising his role as "Tropic Thunder's" foul-mouthed media mogul Les Grossman, Cruise takes a meeting with Pattinson and tells the "Twilight Saga: Eclipse" star that the network is thrilled he'll be appearing at the June 6 event.
"I'm thinking about cleaning myself up a little bit," a flattered Pattinson tells Grossman. "Maybe get a suit, have a shave. Maybe wash my hair." (All kidding aside, 24-year-old Pattinson has gone on the record many times about having filthy follicles.)
"I love it!" Grossman replies. "In fact, I love it so much, I'm going to fly Vidal [expletive] Sassoon here to personally give you a Brazilian blowout. And when he's done, I'll give you the number of a good plumber –because you just flushed your [expletive] career down the toilet!"
Grossman then goes on to berate the bloodsucking teen idol. "Your filthy hair made you a star! Your filthy hair made me hundreds of millions of dollars and sent my fat-[expletive] kid to space camp four times! So what kind of shampoo are you gonna use?"
Pattinson's nervous reply: "Dirt?"
Apparently he got that one right - Grossman gave him a double fist bump of approval.
See the full video (in its full, expletive glory) here.