Nicole Scherzinger wasn't behind the wheel at the Turkish Grand Prix on Sunday, but she may have helped secure boyfriend Lewis Hamilton's big win.
The newly-minted "Dancing with the Stars" champ was in Istanbul over the weekend to support her race car driving boyfriend, Lewis Hamilton, in the Turkish Grand Prix.
And what do you know: Hamilton took the race on Sunday, his first win since September. Did Scherzinger bring any leftover winner's luck to the race?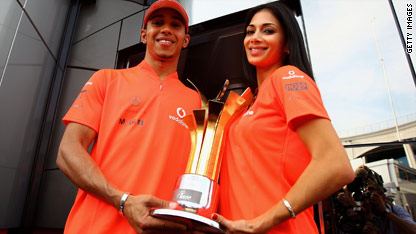 "I wouldn't say no to it," Hamilton said when asked if his girlfriend of three years was a good luck charm. "Every time she seems to come, I seem to win. I think it was Monaco 2008 she came, Hungary I won and Singapore [last year], so she is definitely a little bit lucky for me I think."