Bristol Palin wears a lot of hats. Figuratively, that is.
The 19-year-old - who is a mother, a student, a medical assistant at a dermatologist's office and an ambassador for the Candie's Foundation - talked to Harper's Bazaar about her life since the 2008 presidential campaign that catapulted her into the public eye.
"It didn't hit me that I was going to be a parent until Tripp was like four months old. And I was like, 'Oh yeah, this is reality. I haven't slept in a week and I'm exhausted,' " Palin said, which is why she doesn't consider her role as an ambassador advocating abstinence hypocritical.
"If you get lung cancer from smoking, why wouldn't you want to tell people, 'Hey, look, don't smoke.' Why wouldn't you want to be productive and share your story and do something positive with it?" she said.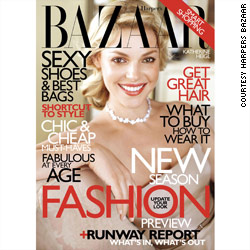 When asked her opinion on the Obama administration, Palin said, "I think he is making more Americans become dependent on government, and he's acting like government can and should take care of everyone. That is completely contrary to what made America a great nation. We should be expected to take responsibility for ourselves."
And as far as adding "first daughter" to her resume, "I don't know if my mom will run (in 2012), but she should," Palin said.