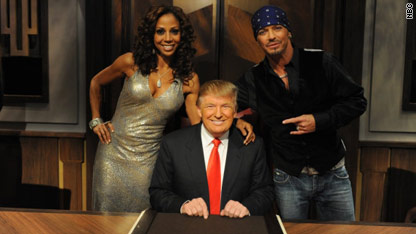 Spoiler alert: Today's blog entry reveals the winner of this season's "Celebrity Apprentice."
This is the first "Celebrity Apprentice" finale that made me cry, laugh and scream. No, I am not usually a spaz.
The show began with Donald Trump ending all questions about Bret Michaels. He announced Michaels would appear live in the boardroom, and even though we waited an hour and a half, it was worth it.
Trump introduced Holly Robinson Peete first, and she entered wearing a sparkly, silver, cleavage-showing, halter dress. Women, never wear that in a boardroom.
"Sit down, Holly," Trump ordered. She told him she was standing for Bret, like everyone else, silly Trump.
Bret Michaels deserved his standing ovation. He walked in slowly, with a limp. He wore one of his signature bandanas, a blue one, and his parents clapped proudly in the audience. Once Michaels sat at the boardroom table, he seemed to lean on the table a bit for support. Otherwise, he looked pretty good for a man who's been through all he has.
Eventually, it was Bret Michaels who heard the words, "You're hired." I screamed! That was indeed the right choice. Do you agree?
Peete couldn't be surprised or mad. She said even her five-year old told her, "Mommy, I love you, but I am rooting for Bret." She didn't leave empty-handed either. Snapple gave her charity $250,000. (You may recall the final challenge for the finalists was to create a new Snapple flavor, a TV commercial and a print ad that must incorporate their charity's message.)
Here are my other highlights:
When Michaels' daughter Raine made a surprise visit, you saw who truly inspires him to live. Summer Sanders cried at the sight of them together, and I wiped tears too.
Bill Rancic, Joan Rivers, Carol Liefer, Sinbad, Rod Blagojevich, Michael Johnson, Selita Ebanks and Cyndi Lauper returned for final thoughts.
Will someone please find Rod Blagojevich a good therapist? The former Illinois governor still sang the same off-pitch song about being wrongly accused.
I loved Cyndi Lauper's live performance. I laughed when she used the boardroom table as her stage.
Darryl Strawberry stated he had battled cancer and now had only one kidney. That explained his fatigue all season.
Let me know what you think about this season's finale!
(Oh, and speaking of comments, I have enjoyed reading yours. Some of you thought I got my facts wrong last week. I didn't. Have you ever noticed how the word "edit" has the same letters as the word "diet?" If you've ever been placed on a diet, things are taken away to help make you better. You pointed out that the edit confused you, and, like junk food, I probably never needed that original paragraph.)