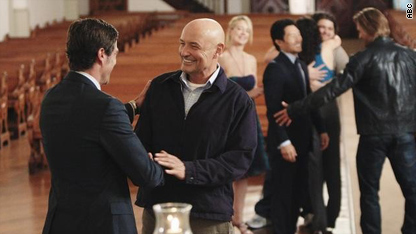 [Editor's Note: You know the drill by now. If you haven't seen the series finale of "Lost" yet, DON'T READ ANY FURTHER.]
To quote John Locke, "We're gonna need to watch that again."
As I said earlier, Sunday night's episode succeeded in many ways as an ending to this season. Just about everything one might want to know about the mysteries of this season was answered. As for some of the earlier mysteries, of which I've talked about here before (the bird that said "Hurley," anyone?), we're left to piece them together ourselves.
The good news is that many answers were more implied (as opposed to the straightforward answer on the whispers) than some might realize (see the discussion about Aaron here), and quite a lot can apparently be explained by the island's electromagnetic "source," which played a big part in the climactic scenes.
Answers or not, as two-and-a-half hours of television, the final "Lost" was extraordinary, and I think it accomplished what it set out to do: It was a very memorable ending, and people will be talking about it for years to come. One thing I never expected was how emotional I would feel watching this finale, and reflecting on it.
So many moments floored me: Rose and Bernard breaking their "rules" to rescue Desmond, with Vincent; Jack telling Smokey how he's going to kill him ("It's a surprise"); Desmond's "Indiana Jones"-ish journey down the waterfall; Kate saving Jack from Smokey with a bullet she saved for him - for Jin, Sun and Sayid, of course; and so many more...
The "letting go" scenes in the "flash-sideways" varied in their effectiveness (Sayid and Shannon? Um, sure why not?), but when they worked, they really worked. Sun and Jin seeing their baby's ultrasound, the pure joy coming from John Locke once Jack healed him, and best of all, Sawyer and Juliet's realization. If that scene didn't get you, you don't have a romantic bone in your body. (For the people who watched "Lost" for the romance and relationships, this finale was an epic win, including Jack and Kate's kiss.) At the same time, Kate's "let go" moment was not about Jack or Sawyer, but delivering Aaron.
The action scenes also worked just as well as anything else on "Lost." Aside from the scenes down the mystical waterfall, and the brutal fight between Jack and Locke, we had an extremely gripping takeoff scene with Lapidus, Miles and Richard... and last-minute passengers Kate, Sawyer and Claire. One assumes they went home to some form of happy ending, as did Desmond, eventually. How the aging Richard might have started a new life on the mainland is anybody's guess. I'm actually really pleased with how many people lived through the main action on the island.
The two Emmy winners on this show had one last incredible scene together, too. (Between Terry O'Quinn and Michael Emerson, one of these guys deserves another Emmy, by the way.) Ben finally got his chance to apologize to Locke, and Locke, having once again gotten up out of his wheelchair, accepted his apology. Pitch perfect.
Speaking of Ben, I can't tell you how much I enjoyed him getting a chance to finally serve a role of significance on the island he loved so much, as Hurley's number two. Part of me was disappointed that Jack was Jacob's replacement, as I thought Hurley would be more fitting... and Hurley got his chance after all, just before Jack went down to save the island from destruction. As far as the way things ended on the island, with Jack sacrificing himself, and that final shot of his eye closing (that one planned out so many years ago by executive producers Damon Lindelof and Carlton Cuse) I'm quite happy with it.
But, back to this being a not-so-satisfying series finale overall: We know many of the important answers, but a lot of things that seemed important in retrospect, were only, as Jacob called them, "just progress," which is more than a little maddening.
In a way, though, that was the point they were trying to make: what really matters is the journey, and the relationships formed. And boy, did they ever drive that point home in those last five minutes.
Jack enters a room in a church with his father's casket, but once again, it's empty. And there his father stands right behind him, to tell him that "letting go" means accepting your death.
The people we saw "let go" are gathered at the church, many of whom died at different times - Hurley, it would seem, died after serving his time as island protector (and congratulating Ben on a job well done, after Ben said he preferred to stay outside the church). They're all there with the ones they love before moving on to the afterlife. Those of you who thought the island was purgatory were wrong, but not far off.
I'm not entirely pleased with this M. Night Shyamalan-esque twist, but at the same time, it's kind of beautiful, and quite apt for this very spiritual final season.
As the finale reminded us time and time again, it's the shared experience that matters, and despite some quibbles, I'm certainly happy with the the time I spent with "Lost." And like I said, like with all the great episodes of this series, I'll be watching it again.
Some final observations:
– I called Richard being alive but not Lapidus. Happy to see them both. One out of two ain't bad.
– At first, I interpreted Eloise as wanting to keep Faraday in the "flash-sideways" as her wanting to live in a reality where she never killed her son. And in a way, it's true, but it's also a little sad for Faraday, Ana Lucia and others (Walt?) who haven't fully, or aren't ready to, "let go."
– One answer that may not have been entirely clear tonight: No one could easily leave the island because that's the way Jacob wanted it. Each island protector makes their own rules. Hurley's rules are for him to decide.
– Another answer: Jack's cuts, reminders of the battle to the death with Smokey.
– So what was the light, or the "source" after all? Was it literally protecting a hellmouth, a volcano or what? If Lucas over-explained "the Force," maybe it's just as well that Cuse and Lindelof under-explained "the source." We do know that the uncorking made the smoke monster mortal, and we have Desmond to thank for that. (Seriously, if Desmond had been killed, the backlash from fans would have been ugly.)
– Desmond as the only one aware of purgatory on the island makes sense due to his "specialness." Speaking of which, with the many characters who, rightly or wrongly, were called "special" throughout the series, Desmond was probably the one who deserved that title the most.
– Once again, three cheers for Michael Giacchino for the musical score, just in this episode alone. Also, I enjoyed Faraday's interpretation of it on the piano.
– Purgatory or not, I'm still on board anytime they want to start a cop show spinoff with Josh Holloway and Ken Leung.
And that's it for me on what will certainly go down as one of the finest and certainly most unique series ever on television. See a few reactions from iReporters here, here and here.
As always, I encourage you to post your own video with your thoughts on the finale and "Lost" as a whole, or to post a comment below. Namaste.