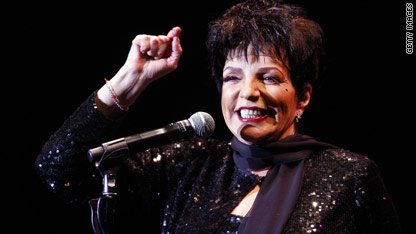 There's only one single lady left in the "Sex and the City 2" storyline, but Liza Minnelli has nonetheless created a cover of the inescapable single for the upcoming movie's soundtrack.
With what EW.com describes as an "Ethel Merman" flair, Minnelli lends a…unique spin to the song that everyone from babies to fictional football players has sung along with.
It looks as though this is the song Minnelli is performing during the wedding scene in the "SATC2" promos, which would make sense since they're all celebrating someone putting a ring on it.
Minnelli told Contact Music that she had "a blast" during that scene, and promises that viewers won't catch her sitting down on the job.
"It's a wonderful number...And I just got a whole new knee, so I can promise you that everything is moving."
Minnelli's cover has been alternately hearted for its comedic campiness and despised for the pain it may cause the ears of some listeners, but a poll over at the Huffington Post shows a split audience. Which side are you on?