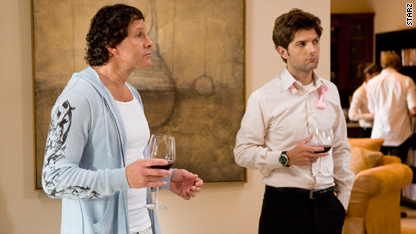 Last year, there was a little show called "Party Down," about a bunch of wannabe actors forced to cater for a living, that quietly became one of the best comedies on TV. Now, halfway through its second season, it's been a little more hit-or-miss, but with Friday night's episode, it was back running on all cylinders.
First of all, who knew Steve Guttenberg could throw such a great party? The caterers showed up to work an event he had completely forgotten about, so he invited them all to be guests at his home instead (recovering alcoholic Ron catered the party anyway).
This episode had quite a few revelations: First of all, just how good are these people at acting, anyway? Henry and stand-up comedian Casey were actually quite good... not so much for Kyle, who, as usual, continued to get the short end of the stick throughout the night.
Secondly, what would a scene written by hard sci-fi writer Roman (and his writing partner, played by Christopher Mintz-Plasse) look like? The answer: "Star Trek," if every character were a Vulcan. I loved the way Kyle's date threw herself into the role of the robot, as well.
Guttenberg took these kids under his wing with the mantra, "No risk, no reward," something Casey took to heart by kissing her ex Henry, never mind the fact that both are in a relationship. Things just got a lot more complicated for them.
This show always ends strong (in the middle of the closing credits), and you can't go wrong with a line like Kyle's: "I f-ing hate Steve Guttenberg."
Only five episodes to go before the season finale, and the return of Jane Lynch - are you looking forward to this as much as I am? Share your thoughts on "Party Down" on video or in the comments below.