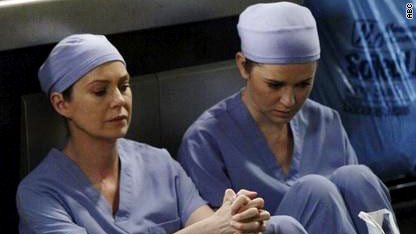 Editor's note: You know how it goes - if you hate spoilers, stop reading now.
Shonda Rhimes knew what the reaction was going to be to the finale of her show, "Grey's Anatomy." On the "Grey's" writers blog she wrote, "You [all] are shouting, 'Shonda, what do you have to say for yourself? WHAT?'"
It was an intense two hours of television. One that left the audience shaken, angry and, if they were anything like, me, bawling. When the stoic Dr. Bailey cries, you know it's bad times at Seattle Grace.
In the first few minutes, shooter Gary Clark enters the hospital, looking for three people in particular. We've seen this depressed character before - the writers have been teasing this storyline for several episodes. He lost his wife to a surgery done by Richard Webber, and chief-of-surgery Dr. Derek Shepherd made the order to pull the plug. Little Grey, Lexie, did the awful deed.
The first shot Clark makes is point blank. Reed is dead. Next up is Alex. He's shot in the side. Both lay in their own blood before the credits even began to roll.
From there the death toll got worse, tensions ran high, and I began to question my sanity in watching the finale alone.
"When I pitched this finale at the beginning of Season 6 (those of you who know me know that I pitch the end of the season first and we work towards it), when I pitched a gunman shooting up the hospital, it seemed fine," Rhimes wrote on the blog. "Really it did. And then 20 or so episodes later, I started to write it and it did not seem fine. It did not seem fine at all. On an almost daily basis, I would come into work and throw myself down on the sofa in the middle of the office and burst into tears."
I won't go through the horror again, but suffice it to say no one walked away without injury, be they emotional wounds or physical ones. Bailey watches Charles die in her arms, unable to help, as guest star Mandy Moore cries in a corner. Christina operates on McDreamy with a gun pointed at her head. Meredith has a miscarriage in a moment of extreme stress. Hunt is shot in the shoulder.
I could go on.
"It hurt to write this finale. It literally hurt me. Because in order to write these episodes, I had to walk in the shoes of Gary Clark," Rhimes wrote. " I had to think like a shooter. A person who would shoot Reed and Alex and Charles. A person who would shoot Derek. By the time I finished writing part one, I was sick. And depressed."
And now, so are we. Of course, Rhimes has her reasons. She compared Meredith losing her baby to owing life a bill - she gets to keep her husband so she has to pay up, karma-wise, in some other way. And there were happy moments... Arizona and Callie realizing that life is too important to stay apart despite a tiny difference of opinion. Owen finally manning up and choosing Christina. Webber finally pouring out the vodka and taking back his hospital.
But overall, "Grey's Anatomy" has once again delivered a season finale that had people one beep away from a suspense-induced flat line.