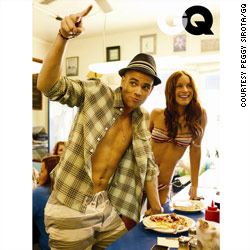 In this edition of "actors who look good in surfwear," we turn our attention to "Glee's" resident bad boy who occasionally shows off his softer side, Mark Salling, known to the Gleeks as Puck.
Salling's Puck is "prime time cougar bait," explained GQ magazine, the men's publication that convinced the 27-year-old actor/singer to strip down to his board shorts. "Think Emilio Estevez in 'The Breakfast Club,' but with a lovely tenor."
Surprisingly though, Salling said that since he shaved his character's trademark Mohawk, he actually doesn't get recognized that often, despite the show's mega-popularity status.
Check out this slideshow for more photos of the breakout star.