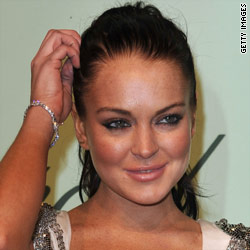 Actress Lindsay Lohan will attend a court hearing Monday morning in Beverly Hills, California, where a judge will  set a date for her probation revocation hearing, her lawyer has confirmed to CNN.
An arrest warrant for Lohan issued Thursday morning was withdrawn after a representative for the actress-singer posted her $100,000 bond, a Los Angeles  sheriff's spokesman said.
Los Angeles County Superior Court Judge Marsha Revel revoked Lohan's probation and issued a bench warrant for her arrest after she failed to appear at a hearing Thursday.
Lohan missed the hearing because her passport was lost while in France,
attorney Shawn Chapman Holley said.  Holley said Lohan was issued a temporary passport by the U.S. Embassy in Paris, France, on Thursday and would fly back to the United States as soon as possible.
Judge Marsha Revel ruled Thursday that there was "probable cause to believe (Lohan) is in violation of probation" from a 2007 drunken driving conviction.
Her father, who has had a well-publicized fight with his daughter, attended the hearing but was not allowed to speak.  Michael Lohan sent the judge a letter asking that his daughter be ordered to enter a drug rehabilitation program instead of jail.
Lohan cannot drink alcohol until a full hearing on her probation revocation, Revel said.   The actress will be fitted with a bracelet to detect whether she has been drinking, the judge said.  Random drug testing also will be performed on the actress, because of previous evidence that she was under the influence of cocaine, Revel said.
"I warned her before," the judge said. "She knew it was very serious." After Thursday's hearing, Holley suggested that the judge was being tougher on Lohan because of her celebrity.
Lohan was arrested twice in 2007 on charges of driving under the influence and in the second incident also was charged with cocaine possession.