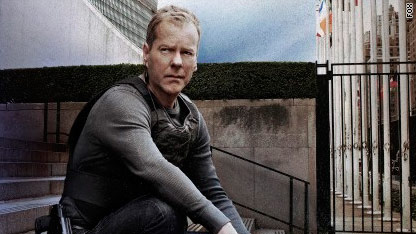 When it comes to TV, I'm easy going. Color me a casual viewer of a few shows I kind of like, and a devout fan of a few I really love. So, when the news came that my all-time favorite show, "24," was ending, I began to fathom the harsh reality of knowing that the show I loved for eight seasons will be no more. At some point, I'll be "Bauer-less", but where will I go? What will I watch now?
I'm a big fan of shows like HBO's "Entourage", "Curb Your Enthusiasm" and "Eastbound and Down," but they're all between seasons at the moment and otherwise unavailable. I religiously watch HBO dramas "Treme" and "The Pacific," but one is a spring runner, and the other is the dreaded "mini-series"... egad.
After careful consideration, I've decided I need a break from the drama. Jack Bauer has some big shoes to fill, and it requires more time. I'm in a transitional stage, and I think its going to be comedy for a while.
After viewing just one episode recently, I became infatuated, and totally head over heels in "like" (not love – yet) with the hilariously clever "Modern Family." It will help to have characters like Jay Pritchett and his wife Gloria to get me through the rough times after "24." But I may need something more...
Readers of the "24" blog here on CNN.com have been more than helpful with their suggestions of shows that could fill the void Jack Bauer's absence will leave behind. While I'm thankful for ideas such as "Fringe," "Flash Forward," "Human Target" and "Burn Notice," I'm also open to some other ways of deciding what's best for my TV-viewing future.
As a kid "Rock, Paper, Scissors" was the definitive solution in almost every dispute, so I figured it had to be a good method to settle the score between these three shows:
"Rock": NBC's "30 Rock"
As an SNL fan, it was easy to follow Tina Fey to her new sitcom four seasons ago. Not only is "30 Rock" a fantastically funny glimpse into Fey's experiences as head writer of SNL, it has become an Emmy award-winning staple with terrific storylines and a great cast. Between my favorite characters, Alec Baldwin (Jack Donaghy), Tracy Morgan (Tracy Jordan), and Jack McBrayer (Kenneth Parcell), I don't know exactly who to laugh at the most. The dialogue is brisk and lively, and its sprinkled with the kind of wry sarcasm I enjoy in my own world. I love this show.
"Paper": NBC's "The Office"
When this show began airing in 2005, I was hooked. Its view on the day-to-day work at a fictional paper company was a fresh way of comedic storytelling I was drawn to like Dwight Schrute to Angela Martin. However, as the years wore on, I became disenchanted with the show and lost interest over time.
Was it Jim and Pam's budding romance taking up too much show time for my taste? I'm not sure, but "The Office" and I are an item again. We've been seeing each other regularly as of late, and I think we can work it out. The show has been renewed for a seventh season, and we may just have a future together after all. Reunited... and it feels so good.
"Scissors": Fox's "Glee"
While I can't believe I just wrote that out loud, I've tuned in to the show a few times (baptized in 'gLeekdom' with the football team's performance of Beyonce's "Single Ladies"), and noticed a silly grin on my face about 80 percent of the time. When its good, the show is downright delightful. I mean, what's not to love about Sue Sylvester's rousing rendition of Madonna's "Vogue," right?
But when it's bad for me, I've had a tendency to find the show "uber-hokey" (copyright, Dereyck Moore). At some points, I've actually judged myself for being a grown man watching such foolishness. (Dereyck, seriously? You watch this?) The jury's still deliberating on this one.
You know the rules: Rock beats scissors, scissors cut paper, and paper covers rock. The verdict? No real winner. None of these shows will cure my need for the heart-pounding action I've come to know and love via CTU and Jack Bauer all these years. I still can't decide on a winner, so it's DVR-priority status for all three. Free time will be a factor, but I have to make a "new favorite" decision somehow.
Meanwhile, back to the drawing board. When all else fails, sometimes you just have to go with a tried, true, scientifically-proven method of decision making. So, I stand up, take a deep breath, and begin to figure this thing out the right way:
"Plasma, plasma on the wall, which show will become tops of them all?"
Of course, the TV says nothing in response, because, well, it's not a mirror. So I'm forced to search through the channels to see what sparks my interest. I think I've made solid progress, but I'm still open to other suggestions. Comment below. Hopefully, the withdrawal will be short-lived, and my TV-viewing life can go on without Jack Bauer... somehow.