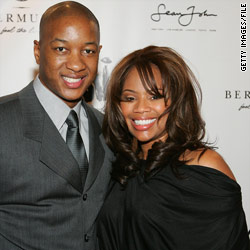 One of the former cast mates of the "Real Housewives of Atlanta" will soon be a housewife no more.
DeShawn Snow and her husband, former NBA player Eric Snow, are divorcing according to a report in the Atlanta Journal-Constitution.
Eric Snow recently filed divorce papers in Fulton County Superior Court in Georgia stating that there is "no hope of reconciliation" for the pair who has been married for 12 years.  He requests joint custody of their three sons.
The family was featured on the first season of "RHOA" which included an episode about a less than successful charity event hosted by DeShawn Snow at their mansion.
She told Essence magazine she was asked to leave the show after the first season because she wasn't bringing enough drama.
"[One of the producers] called and said that I was 'too human for a circus show' and that because the show did so well, they are about to pump up the drama and they didn't think that I would fit in," she said. "I'm fine with the decision."
The couple are reportedly separated and Eric Snow, who previously served as a captain for the Cleveland Cavaliers, currently works as an analyst for NBA-TV.